Is Puglia expensive? Is probably one of the first questions that come into the mind of every traveler who has seen the viral Alberobello Tiktoks and now is trying to plan a dreamy vacation to the South of Italy.
As one of the fastest-growing tourism destinations in Europe over the past ten years, Puglia seamlessly blends history, culture, and affordability, making it a great destination for those looking for crystal-clear beaches and charming Italian towns.
If you are dreaming of visiting Puglia but unsure about the costs then look no further!
Visiting Puglia on a budget is totally doable and in this guide, I will lay out all my expenses, the itinerary that I followed and share some tips to plan your road trip to Puglia.
Before we start, let's solve the question of the year…
Is it expensive to visit Puglia?
Puglia is among the most affordable destinations in Italy and Europe as a whole, providing excellent value not only for budget travelers but also for those seeking a luxurious vacation experience without breaking the bank.
The daily cost of traveling to Puglia in the early summer months is €112 (or $119 USD) per person including mid-range accommodation, car rental, and meals at restaurants every day.
In the following guide, I will share with you everything that I did while in Puglia and the total cost of the trip. As always, you can use our table of content to jump to the section that interest you the most:
Things to consider when planning a trip to Puglia
Puglia, also known as Apulia, is a region located in the southern peninsular section of Italy ('the heel of the boot'), bordering the Adriatic Sea and the Ionian Sea.
Because there is so much to see in the region, no trip to Puglia is the same as the other. From lively cities like Bari to charming villages like Polignano a Mare, there are endless spots that you can explore.
While the most popular options to base yourself in Puglia are Bari, Lecce, and Monopoli, choosing towns like Otranto and Nardo can give you an off-the-beaten-path experience.
Regarding transportation, the north of Puglia (Bari, Polignano a Mare, Monopoli) can easily be easily reached by train and bus. However, if you want to explore the beaches around the southern end of the region such as Porto Cesareo, Baia dei Turchi, or Santa Maria de Leuca, then your best option is to rent a car since there aren't many public transportation options and the ones that exist takes longer.
How many days do you need in Puglia?
If you want to thoroughly explore Puglia a minimum of two weeks is recommended. However, 5-7 days can provide a great introduction, allowing you to have a first look at its most popular sights and mix beach relaxation with village exploration.
In my case, I stayed in Puglia for 6 days and didn't want to leave (fun fact: I tried to cancel my Albanian trip to stay a little more but it was too expensive so I couldn't!). Despite this, I am thrilled with all the things I managed to visit during those 6 days and I totally recommend you travel to Puglia even if you only manage to stay for 4-6 days.
Where to base yourself in Puglia
For a first-time visit, it is best to combine Bari and Lecce to base yourself in Puglia as it will allow you to have easy access to the north of the region and the Salento beaches.
Both of these towns are also great if you are traveling to Puglia without a car, although I do recommend renting a car in Lecce to explore secluded beaches.
How much does it cost accommodation in Puglia?
I traveled to Puglia in June 2023 with my boyfriend and we decided to make our first stop in Bari, not only because it is a main hub to explore towns like Polignano a Mare and Monopoli, but also because the city held a special meaning for me: my grandfather who passed away recently was born in Bari and emigrated to America after the Great War.
We decided to spend the 2 first nights of our trip in the Old Town of Bari, so we booked a room in Tresca Charme Luxury Rooms bed-and-breakfast. We paid €235 for 2 nights which came down to €58.75 per person per night
My favorite thing about Tresca Charme was its fantastic location. The vibe of Bari Old Town at night is incredible, and it was amazing to be within walking distance of all the restaurants. Additionally, the hotel was just around the corner from Basilica San Nicola and a few steps away from the famous Bari Nonnas.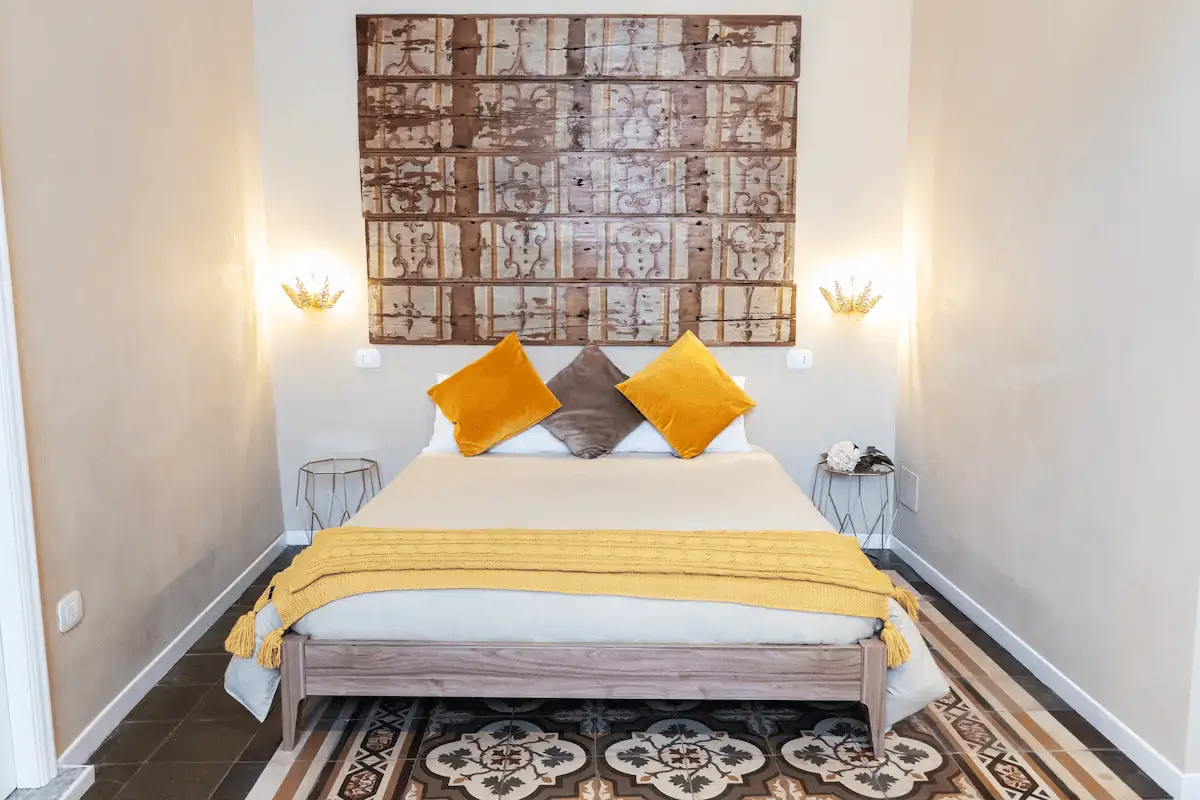 The room had a trendy decoration (it seemed right out of a Pinterest board!) and included a mini kitchen which was a nice surprise for us. We didn't use it because we were only staying two nights so we opted to dine out but it is a great option if you are trying to travel to Puglia on a budget.
The real gem of this bed and breakfast was Franchesco, its owner. He greeted us with local sweets and coffee and made us an extensive list of restaurant and beach recommendations that we made sure to follow.
After spending two amazing nights in Bari we rented a car and drove to Lecce to base ourselves near the most incredible Puglia beaches.
For the following 3 nights, we stayed in La Loggia dei Rayno, a cute bed and breakfast located at the entrance of Lecce's Old Town, where we paid a total of €255 for 3 nights
If you're arriving by car, the location of La Loggia dei Rayno is excellent because you can't access the Old Town with your car. This bed and breakfast allows you to park just two blocks away from your accommodation, and you are also permitted to drive into the hotel for luggage drop-off.
What we enjoyed most about this hotel was its terrace overlooking the Old Town of Lecce. You could enjoy your complimentary breakfast during the day, and in the evening, you had the option to bring your own bottle of Italian wine and relax.
Transportation in Puglia
Most of the towns in Northern Puglia are easily accessible by public transport, especially if you're based in Bari. However, if you want to explore the various beaches of Salento, in my experience, it's better to rent a car since some of the best places to visit aren't easily reachable by public transport.
For this trip, we opted for a combination of public transport and car rental. We relied on the train for our stay in Bari to visit Polignano a Mare and Monopoli, and we rented a car to travel from Bari to Lecce, making a stop in Alberobello along the way.
Renting a car for the second part of our trip allowed us to visit several towns in a single day, hop between beaches, and have the flexibility to pull over and enjoy off-the-beaten-path sights.
We rented our car directly on Avis website and we paid €313 for 4 days of car rental. We opted to pick up the car at the Bari Downtown location, just around the corner from the train station, and drop it off at Brindisi, from where we took a ferry to Albania
TIP: Keep comparing prices on rentals even after you book your car! We booked the car 3 months in advance for €420 with free cancelation but the morning of our pick up I checked Avis website again and found rates for €100 less so I cancelled the original booking and made a new reservation.
6 days Puglia itinerary with cost breakdown
Below, I will share with you the exact itinerary I followed on my last trip to Puglia and how much I spent. I traveled with my boyfriend so all of the expenses were split by two, the final costs presented are per person.
Please note that conversion rates fluctuate daily, so I will share prices in Euros, the currency used in Italy. If you want to know the equivalent in USD at the time you read this, you can use a conversion tool to check it out
Day 1: Bari Old Town
We arrived early in the morning at Bari Airport and took a taxi to Bari to our bed and breakfast. From the airport, taxis charged a flat rate of €30 to the Bari Old Town (€15 per person).
We left our luggage at the hotel while we waited for our room to be ready and went out to explore our surroundings.
Our hotel, Tresca Charme Luxury Rooms, was only 6 blocks away from the start of Via Sparano, the main shopping street of Bari, so we headed there to do some window shopping in the meantime. While we walked there we were tempted by a local panini store that had the most delicious sandwiches on earth, so we shared a prosciutto sandwich for €7.50 (€3.75 per person).
The owner of the hotel messaged us once our room was ready so we walked back to the Old Town. Our original plan was to go to a nearby beach called Pane e Pomodoro and have lunch there but the sky turned gray so we decided to explore the Old Town instead.
At the Old Town, we stopped at a cute charcuterie spot where we ordered a charcuterie board with a glass of wine and an Aperol Spritz for €22
During our walk around the Old Town, we visited the Bari Cathedral and passed by Arco Basso, the alley where Bari nonnas (which means grandmother in Italian) make fresh pasta everyday that you can buy for around €5.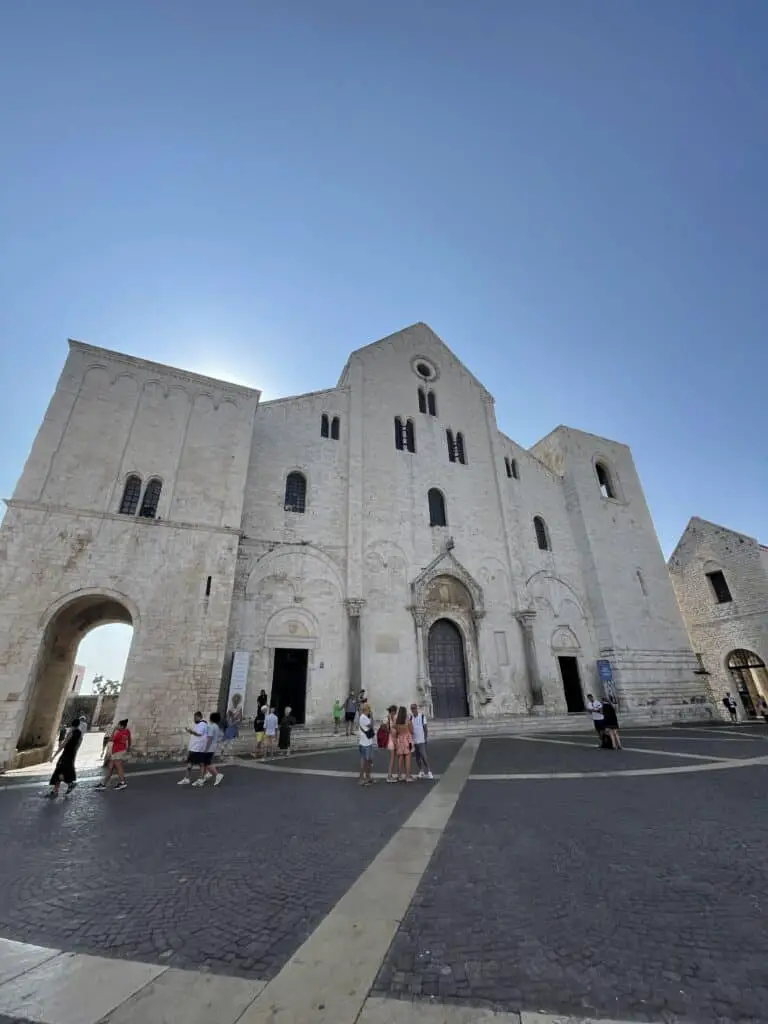 At night we decided to make a reservation in Nicolaus Bistro Dal Mare, a restaurant recommended by the owner of our hotel that served fresh fish dishes. It was one of the best decisions of our trip, the atmosphere was really lived, full of locals enjoying their holidays.
We paid €35 euros (€17,50 per person) for a glass of wine, an Aperol spritz, a main course of risotto and a main course of octopus.
Total cost of day 1: €36,25
Transportation: €15
Food: €21,25
Day 2: Polignano a Mare, Monopoli
On our second full day in Bari, we decided to take a day trip to Polignano a Mare and Monopoli.
From our hotel, we took a 15-minute walk to the train station and purchased a €1.20 ticket to Polignano a Mare.
If you think you haven't heard of Polignano a Mare, think twice because you've probably seen its famous beach on Instagram. Cala Porto is the main beach in Polignano a Mare Old Town, and in recent years, it has gone viral for its dreamy landscape.
We didn't spend actual time on the beach, but if you want to sunbathe in this incredible scenery, I recommend arriving early as the beach is quite small and gets very crowded during the summer months.
After admiring the beach from above, we took a couple of hours to wander around the Old Town of Polignano a Mare and decided to have an impromptu self-guided food tour for lunch.
We started by trying the famous panzerotti, a deep-fried dough similar to a calzone filled with mozzarella and tomato sauce (or even more combinations!). We purchased two panzerottis for €6 (€3 per person).
After enjoying the savory panzerottis, we headed to Pescaria, a popular seafood restaurant in Italy with franchises in Polignano a Mare, Milan, Turin, and Rome. The restaurant is renowned for its huge paninis but also offers several seafood options like tuna tartare, oysters, and even raw seafood (which is quite common in the south of Italy).
Since the paninis are huge and we had already eaten the panzerotti's, we opted to share an octopus panini with fries and ordered a glass of wine and an Aperol spritz. All of this costed us €33 (€16.5 per person)
RECOMMENDED: We didn't have time to try it out on this trip but a friend of mine recommended me this street food tour in Polignano a Mare with wine tasting included. It costs €36 per person and lasts 2 and a half hours, I am looking forward to coming back to Puglia to try it.
After our treating ourselves with the amazing food of Puglia we headed again to the train station to move to our next destination: Monopoli. The train cost us €1.20 per person and we were able to buy the tickets right at the station (in fact you don't need to book in advance for any of these short journeys).
Once in Monopoli, we stop for a gelato (€2.80 each) on our way to the Old Town. Once there, we did some shopping among its cute shops (there are a lot of perfume and clothing options!), visited the famous Castello di Carlo, and enjoyed some time at the Cala Porta Vechia beach.
TIP: While we didn't sit down at a restaurant in Monopoli, we could tell that the town offered more upscale and gourmet options than Polignano a Mare which were also pricier so if you are traveling on a budget I recommend you plan your lunch in Polignano a Mare.
After soaking some sun with the locals at the beach we went back to the train station and took a 30-minute train ride back to Bari for €3.60 each.
We rested at our hotel in Bari for a while and then went out for pizza and drinks which cost us around €20 (€10 per person).
Total cost of day 2: €35.5
Transportation: €6
Food: €29.5
Day 3: Alberobello, Lecce
After enjoying Bari and reconnecting with my grandfather by wandering the streets of his hometown, it was time to say goodbye and head to our next destination: Lecce.
We needed to pick up our car from the train station, so the owner of our bed and breakfast suggested we take the bus that stopped right around the corner for €1.80 each. Looking back, I regret that decision. While a taxi would have cost us at least €20, the taxi ride would have taken only 10 minutes, whereas our bus journey lasted almost half an hour.
After we collected our car from Avis Bari Downtown station and paid €313 for 4 days of car rental, we headed to Alberobello.
Alberobello is conveniently located between Bari and Lecce so it made sense to us to visit it on our way to our next home base. However, we were a little worried about where to park our car since we had our luggage with us.
After some online research, I found a camper parking area located just around the corner from Via Monte Cucco, one of the streets from where you can enter the Trulli zone. The parking lot charged us €5 for the whole day and we felt really secure leaving our belongings there as it had a guardian service from 09.00 to 20.00 and it was full of campervans (my thought was, if people feel safe enough to sleep here I can leave my bags for a couple of hours!)

Alberobello parking spot
Alberobello is truly a magic place. There isn't a particular thing to do while you are in the town but I could spend hours wandering around the beautiful Trullis, and sitting in a bar to people-watch with a drink in my hand.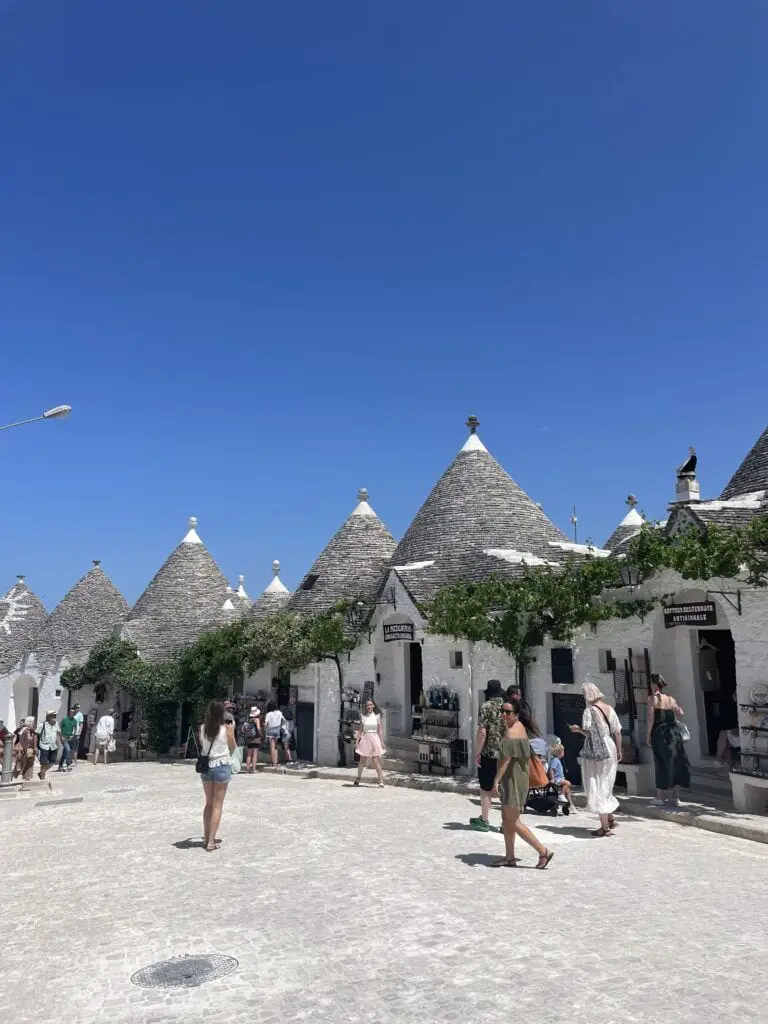 Alberobello is truly a wonderful place. While there isn't a specific activity to do in the village, the magic of Alberobello lies in getting lost among its famous trulli and sitting at a bar to have a drink while watching people go by.
On Lago Martellota Street, there are several restaurants and bars where you can have lunch. Unfortunately, we had bad luck and chose a restaurant that, while it had a beautiful view of the village, didn't serve good food. We ordered two focaccias and two drinks for €30.
After buying some wine and olive oil in local shops and taking a dozen pictures we headed back to our car and drove one hour to Lecce where our bed and breakfast host was waiting for us.
INSIGHT: Parking in Lecce can be a bit tricky due to the Old Town being a pedestrian zone accessible only to locals by car. Fortunately, our hotel was conveniently located within the Historical Center, just two blocks from public parking outside the restricted traffic zone. We paid €0.60 per hour for parking from 9:00 to 14:00, and it was free after 14:00
On our first night in Lecce, we took a stroll through the Historical Center, visiting the renowned Porta Napoli and the Basilica di Santa Croce, also known as the Basilica of the Holy Cross. Lecce has a truly enchanting atmosphere at night, I highly recommend you to set some time aside to explore it after sunset.
For dinner we sat down at La Locanda del Ballerino and ordered potato gnocchis with octopus ragú, spaghetti alla carbonara, a tiramisu for dessert and a bottle of wine (don't miss out Primitivo wines while in Puglia!) for €53 (€26,5 per person)
Total cost of day 3: €202,60
Transportation: €161
Food: €41,5
Day 4: Porto Cesareo
For our first full day in Lecce, we decided it was time for the beach! One of our dream destinations in Puglia was Porto Cesareo, so we spent our day there.
Porto Cesareo is a charming beach town located just a 40-minute ride from Lecce. It's a typical Italian holiday spot, situated on the Ionian Sea, and it comes alive with local vacationers during the summer months.
TIP: In Salento, the sun sets over the Ionian Sea, so if you stay at the beach until late, you'll have the chance to witness the sun setting on the sea
We went to Le Dune Lido, a beach club part of a 4 star hotel called Le Dune and it quickly became one of our favorite beach clubs in Italy.
The water was crystal clear and the beach club had a bar that during the day served casual snacks until 17.00 and at 18.00 it reopened as a night bar with stunning views of the Porto Cesareo's sea and delicious cocktails.
When we arrived the umbrellas were fully booked but they still had sun beds with no umbrella left for €5 each (what a steal!). However, you should keep in mind that prices vary depending on the month you are traveling, you can see the price difference between May, June, August, and September in the picture below:
At noon we decided to step out of the sun and go up to the bar overlooking the ocean to have lunch. We had two salads and two drinks for €28.
Because the view of the Le Dune bar was so great, we also decided to stay until late to catch the sunset from there and have an early dinner. The atmosphere was unbeatable and there was a live DJ playing chill music which made our cocktail taste even better!
After paying our tab (€35 for two drinks and a plate of chips and fish to share) we drove 5 minutes to the center of the town where we ended our night walking around the shops and restaurants of Port Cesareo Bay.
Total cost of day 4: €36,5
Food: €31,50
Beach access: €5
Transportation: €0.60
Day 5: Baia dei Turchi
After enjoying an incredible beach day at the Ionian Sea it was time to discover the beaches of the Adriatic Sea, so our next stop was Baia dei Turchi in Otranto.
Before embarking on our journey, we stopped by for a delicious Italian breakfast at the terrace of our hotel, with charming views of Lecce's Historical Center
After trying out all the patisserie available we hopped on our car and drove 45 minutes to Otranto, where Baia dei Turchi was located.
Baia dei Turchi is a more unspoiled beach, with only a snack bar offering food, an umbrella rental place (€5 per sunbed), and chemical bathrooms. However, this lack of infrastructure is what has allowed this secluded beach to remain an uncrowded paradise.
TIP: I recommend you bring an insulated lunch bag with food. Even though the food stall isn't expensive (we spent €12 for two slices of pizza and two soft drinks) there are limited options and they sell out fast.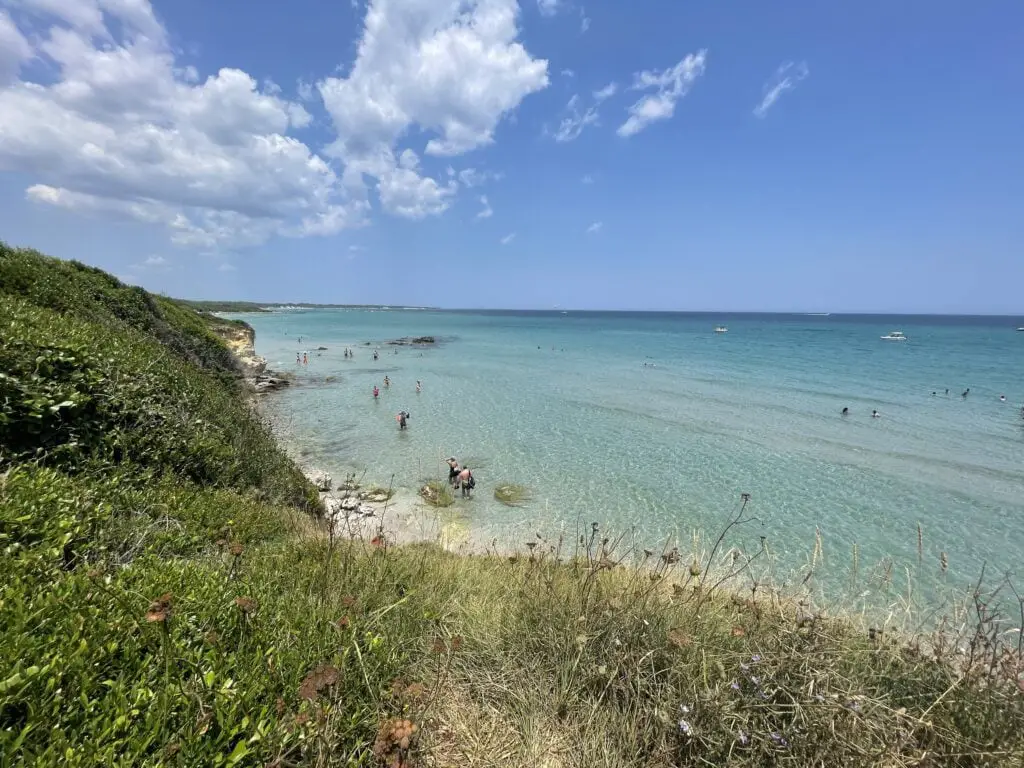 The location of the beach is a little tricky to find. In fact, if you are using Waze to drive around Puglia I recommend you to use Google Maps to get to this beach as I have found it more accurate. Below you can see a map of the exact location that leads you to the free parking lot of the beach:
Something worth mentioning is that the beach is not known for its accessibility. There's about a 15-minute walk from the parking area to the beach, along a dirt path with ups and downs. You might find a difficult time to get there if you are traveling with a stroller or with senior folks.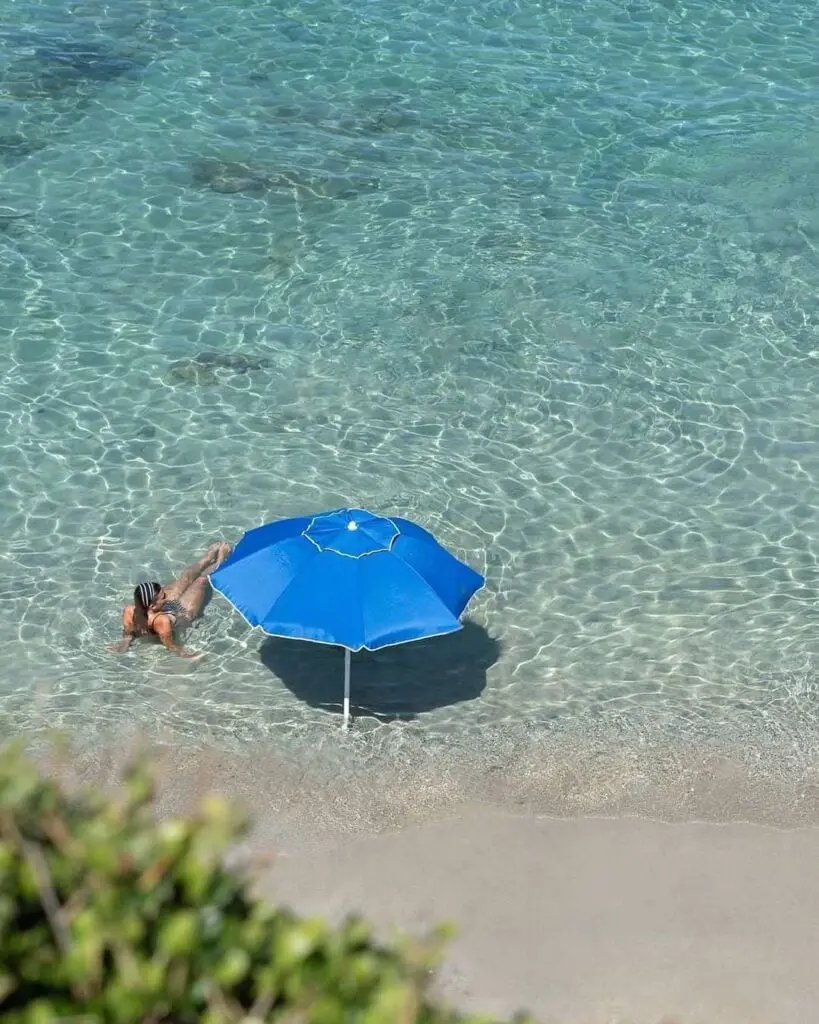 After enjoying swimming in the incredible waters of Baia dei Turchi we went back to our hotel to rest and get ready for a sushi night in Lecce.
On this night, we stepped a few blocks out of the Historical Center and reserved a table at Koya Sushi an all-you-can-eat sushi restaurant. I often avoid this kind of place as the food tends to be average but after reading so many great reviews about Koya we decided to give it a try.
To be honest, the sushi was phenomenal! The fish was really fresh and the menu offered a lot of interesting choices. What's even better is that the place looked really upscale, and had an amazing decor and dedicated staff.
The unlimited menu cost us €60 per person and we spent €20 more on wine and drinks. I highly recommend the restaurant and it was definitely a culinary highlight of the trip.
Total cost of day 5: €81,6
Transportation: €0,60
Food: €76
Beach access: €5
Day 6: Gallipoli, Porto Cesareo
On our last day in Puglia, we decided to return to Porto Cesareo for one final day at the beach. Originally, we had planned to visit a new beach (Santa María de Leuca or Torre Dell Orso), but since we had to check out of our hotel in the morning, we had our luggage with us. So, we felt safer revisiting Le Dune Beach Club, as it was part of a hotel and had private parking with security (€8).
Before heading to Porto Cesareo, we made a stop in Gallipoli, another popular beach town on the Ionian Sea, and explored the town by car. We also visited Baia Verde to check out the beach and picked up some groceries from a supermarket right in front of the lidos (Italian beach clubs).
For €20, we filled our lunch bag with some beers, sodas, and a fresh mozzarella and prosciutto sandwich for each of us.
After driving around Gallipoli, we headed to Porto Cesareo and enjoyed the rest of our day there. Once our beach time was over, we used the outdoor showers (€1 fee) to wash off the sand, changed in the beach club restrooms, and went upstairs to enjoy a final sunset meal at the bar. We ordered french fries, truffle pizzas, and two rounds of drinks for €32
Total cost of day 6: €39
Transportation: €8
Food: €26
Beach access: €5
Total cost: How much does it cost to travel to Puglia
The total cost of traveling for 6 days around Puglia in the summer season (June) is €676 per person, including car rental, accommodation, food, and activities.
This budget is designed for a mid-range trip with double occupancy. While we stayed at 3-star hotels, we splurged on dining out daily, ordering alcoholic beverages, and renting sunbeds at beach clubs.
To make your trip more budget-friendly, you can always reduce accommodation costs by opting for apartment rentals. Not only are they more affordable, but they also provide the option to cook your meals at home.
Unlike some places like Ksamil in Albania, all of Puglia's beaches offer public access. You can save money by avoiding beach clubs and enjoying the public beach experience
Final reflections and conclusion
Is Puglia Expensive?
Puglia is a pretty budget-friendly destination that works for all sorts of travelers. The cool thing is, chowing down at restaurants and hitting up beach clubs won't break the bank, unlike fancier places like Santorini, Ibiza, or Sicily. So, even if you're looking for a more exclusive experience, you can still enjoy a lavish trip by staying in 5-star hotels or Masserias and having budget-friendly nights out.
And if you're on a backpacker's budget, Puglia's got your back. For the same price you'd pay for a hostel in other hotspots around Europe, you can snag yourself a modest hotel room here.
Is it possible to travel to Puglia on a budget?
Puglia is one of the best destinations to travel on a budget as it offers plenty of affordable accommodation options and the best of Italian cuisine for low prices. In fact, the best thing about visiting this region is that you can do an affordable trip while still dinning out everyday and enjoying comfortable beach clubs
Is Bari expensive?
Bari is a budget-friendly destination and one of the cheapest cities to travel in Italy. When compared to other towns in Puglia such as Alberobello, Monopoli, and Lecce, accommodation and food in Bari also tends to be cheaper.
Is Puglia cheaper than Amalfi Coast?
Traveling to Puglia is cheaper than visiting the Amalfi Coast. As an example, mid-range accommodation on the Amalfi Coast starts at +57% more expensive than accommodation in Puglia, while luxury accommodation can cost up to +115%
Dining out in Amalfi is also more expensive, an Aperol Spritz costs between €15 and €20 while in Puglia you can enjoy a drink at the beachfront bar of a 4-star hotel for €6. In the South of Italy, ordering a pizza at a restaurant ranges between €6 and €10 while in the Amalfi Coast, you can expect to pay an average of €16 per pizza.