Looking to know how expensive are Ksamil prices? After seeing so many TikToks about the 'budget-friendly Maldives of Europe' I decided to travel to Ksamil, Albania in July 2023 with my partner and I am ready to share everything with you!
It was hard to find information online and once I got to the town I quickly found out that Ksamil prices weren't as cheap as most influencers seemed to be, that is why I decided to create this complete travel guide to help you understand more about the actual cost of travel to Albania.
In this guide, I will cover the basic information about Ksamil such as transportation options, things to do, and where to stay, and share with you how much did I actually spend on each category.
If you are in a rush, you can use the links below to jump straight to the part that you want to read:
Before we start, let's cover the most essential question: is Ksamil expensive?
Is Ksamil, Albania expensive?
Ksamil is one of the cheapest beach towns in Europe. Compared to other popular summer destinations like Mykonos, Mallorca, and Nice, prices for accommodation, tours, and restaurants in Ksamil are significantly lower, often nearly half the cost.
Despite this, transportation in Ksamil and the rest of Albania is actually expensive and can put your budget trip at risk if you don't plan well in advance. For example, a taxi from Tirana Airport (the only airport in the country) to Ksamil can cost you up to €170.
Ksamil Travel guide & Trip report
How to get to Ksamil
You can get to Ksamil by flying to Tirana Airport or through one of its 3 main ports (Vlore, Durres, and Sarande) where regular ferries arrive from Italy and Greece. However, getting to Ksamil is not easy and requires several hours of travel.
From Tirana Airport to Ksamil
Tirana International Airport is the only airport in the country and is located in Tirana, the capital of Albania. Getting from Tirana Airport to Ksamil involves a +3 hour's ride to Ksamil which you can do by public bus, private transfer, or taxi.
Most of the private transfer options that you can find online on popular websites such as Mytransfers.com, Shuttle Direct, or Viator are really overpriced (we are talking about +€100 of what you should be paying), and hopping on a taxi at the airport can also lead to extra charges (the taxis fares are not well regulated and no one controls how much the taxis are charging you).
Based on my experience, I strongly suggest you reach out to local private taxis before you travel and negotiate for a fare in advance. During my trip to Ksamil, I used the services of Taxi Leo and Saranda Taxi (+355696717185) who both drove a Mercedes Benz car and charged reasonable prices for our journeys.
You can expect to pay €150-170 for a taxi from Tirana Airport to Ksamil.
Another option is to take the bus from Tirana to Ksamil for 2000 lek (Albanian official currency) which is $20 approx. From the airport to the bus station you can take a taxi and expect to pay 1500 lek more.
If you are considering taking this route I highly recommend you to read our article about how to get from Ksamil to Tirana by bus
Flying to Corfu and arriving in Ksamil by ferry.
Corfu island in Greece is actually in front of Ksamil and there are regular ferries departing almost every half hour to Sarande port, which is only 20 minutes away from Ksamil. For this reason, travelers often choose to fly to Corfu and take the ferry to Sarande.
While this option is faster than arriving at Tirana airport, it involves more transfers since you need to take a taxi from Corfu airport to Corfu port, then take a 30-minute ferry to Sarande port and once again hop on a taxi or bus to Ksamil.
If you choose this route, you can expect to pay between €25-30 for one-way tickets to Sarande and an extra €15 for a taxi to Ksamil or €1.50 if you choose to take the bus.
Taking the ferry from Puglia (Brindisi) to Vlore
In my case, I was traveling around Puglia before heading to Ksamil so we decided to take the night ferry to Vlore port in Albania.
I booked the ticket through Ferry Hopper and paid €200 for a deluxe private suite for two, which came down to €100 per person. Keep in mind that, since this was a night ferry, we didn't have to pay a hotel for that night so the €200 was for transportation AND accommodation.
I wasn't sure what to expect about this ferry ride but it was actually an excellent way to get to Albania. Our Ionian Star ferry departed at 00:00 from the port of Brindisi (there was a 30-minute delay) and arrived around 7:30 so we got the chance to take a shower at our private bathroom and have a full night of sleep in a super comfy bed.
If you want to know more about the experience I wrote an article with my Brindisi to Vlore ferry review
Once we arrived at Vlore port we took a €135 taxi to Ksamil, which was a 2 and a half hours ride.
Another option is to take a 5 hours public bus from Vlore to Sarande and from there take a 15-minute taxi to Ksamil. At the time we traveled to Albania (July 2023) the only two buses available for the day were at 07:30 and 13:00 and we were late for the first one so we decided to bite the bullet and pay the taxi.
Where to stay in Ksamil
Because Ksamil is so small, every area is the best area to stay in Ksamil. You can either be close to the beach or close to the center located in SH81 Street, but both locations are a few steps away from each other.
Best mid-range hotel in Ksamil
We decided to stay at Summer Gate Hotel, a recently opened hotel located just 3 minutes away from the main street and just a block from the beach.
We booked a suite with a private oceanview balcony through Booking.com and we paid €283 for 4 nights, or €35.40 per person per night. The hotel also had a restaurant that served free Albanian breakfast every day.
We traveled with a mid-range budget and we felt really good about our hotel choice, not only because of the amazing location and balcony views but also because of the amazing owner and his family who made sure we had the best time at Ksamil.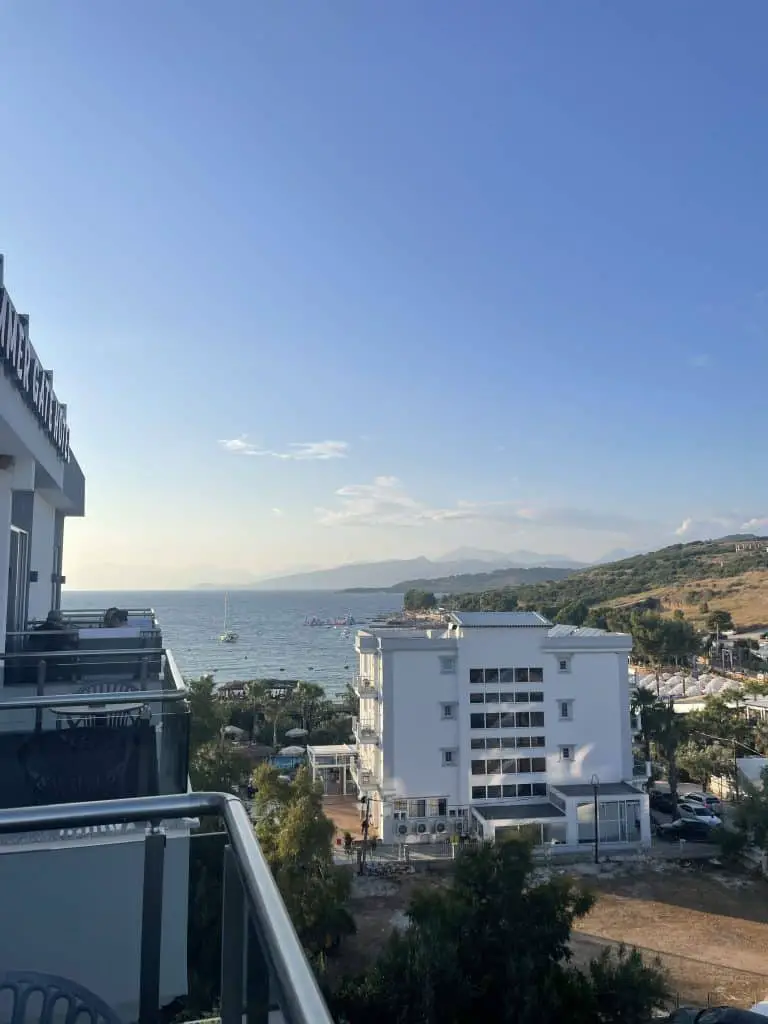 In case you are traveling to Ksamil for a special occasion and want to splurge a little bit on fancy accommodation I will leave you below all the information about a special hotel that I came across while wandering around the town and loved it:
While there is no such thing as 'luxury' hotels in Ksamil, the Arameras Beach Resort is as close as you can get if you are looking for a fancy vacation.
The hotel is secluded from the center of the town but offers free transportation options with golf carts which makes it an excellent option if you are looking for privacy without missing the fun of the town.
Since the hotel is secluded, you won't have to deal with crowded beaches making the private beach of the hotel the perfect place to chill out. I passed by this beach with a boat during my time at Ksamil and I added it to my bucket list for my next visit, the restaurant and sun beds really looked amazing!
The best part about Arameras Beach Resort is that all of its rooms are one and two bedrooms private villages with terraces overlooking the ocean. Because of this, the Arameras Resort is not only great for couples on a romantic getaway but also a great choice for families looking for a more upscale experience.
While prices can vary depending on the season, you can expect to pay between $200 and $250 for a one-bedroom private village that can host up to 3 people.
Ksamil beaches
There are several beaches surrounding Ksamil area, Plazhi Ksamilit (Ksamil Beach) is the main one as it is located near most of the hotels and the town's center.
It is important to notice that all of the beaches in Ksamil are private, which means that you have to pay for a sunbed in order to access. In Ksamil Beach, all private beaches are surrounded by restaurants that manage the sunbed rental.
In July, all of the beaches I visited in Ksamil cost an average of $2000 leks which was about $21 o €17 for 2 sunbeds and an umbrella.
Other things to do in Ksamil
One of the best activities that we had in Albania was renting a boat in Ksamil. It is a popular activity in the town and it was definitely the highlight of our European trip.
We booked the boat the day before at Ksamil Web, a local travel agency with an office at the center of the town, and paid $16,000 Leks (around $166 USD) for a full-day rental with petrol included.
The next day, we started early in the morning doing groceries for the boat and spent $3,000 leks ($30 USD) on wine, cheeses, snacks, sodas, and sandwiches. After packing our lunch we went to Africana Beach Club, the meeting point for the boat rental, where the friendly staff explained to us the safety guidelines and all the possible routes that we could take during the day.
We decided to pass by the Ksamil islands and head south to the border with Greece to see the famous Tongo Island. We did several stops along the way to enjoy the quiet of the sea, swim in the ocean, and enjoy our picnic.
Ksamil restaurants
Unlike Greece or Italy, Albania's beach towns are not popular for its gastronomy. However, there are several restaurants in Ksamil where you can enjoy good meals for good value.
My advice is to always go for seafood as it is not only fresh (I have even seen fishermen entering restaurants with bags full of fresh fish!) but also it is what they know best how to cook. You will find other dishes such as meat or plates of pasta everywhere in town but not all restaurants will do a good job with them.
One of my favorite restaurants was Bar Restorant Korali Ksamil where we had the most exquisite mussels with octopus, Greek salad, and tiramisu dessert for $50 USD ($25 each) including two glasses of white wine and two cans of sodas.
For a budget meal, another place we loved was Orange Grill, Pizza & Lounge, it was a really trendy spot which is great if you want to save on food but want to still feel on a date. We paid $12 USD for two gyros, a can of Coke, and a local beer.
Getting out of Ksamil
Traveling to Ksamil is tricky because the only airport in Albania is located in Tirana, which is 3-4 hours from Ksamil.
In our case, we had to take a flight from Tirana to our next destination so we decided to take the public bus, which departs from Saranda.
The Saranda to Tirana bus costed only $2,000 leks ($20 USD – €17) per person and, because we had a lot of luggage with us, we decided to paid €15 for a taxi to Saranda's bus station instead of taking the €1.50 bus. 
Cost of travel to Ksamil
The total cost of traveling to Ksamil, Albania in July as a couple was $978 for 4 full days of traveling, which comes down to $122 per person, per day.
This budget includes eating out at restaurants for all of the meals, paying for sunbeds, and choosing taxis over local buses. Ksamil prices can be way cheaper if you rent an Airbnb and cook some meals, and choose public transportation.
Ksamil prices
I decided to include some Ksamil prices for popular things on this travel guide so you can have an idea of how much you should expect to pay.
Sunbed for two: $20
Fast food meal (gyros): $5
Meal at a fancy restaurant: $25-$35
A plate of mussels: $8
Coca-cola: $1
Water: $1
Water inflatable: $10
SUP rental: $5 for 2 hours
Drink at a bar: $7-10
FAQs
Is Albania cheap to vacation?
Albania is one of the cheapest beach destinations in Europe. However, as tourism continues to develop in the country, the most popular beach towns in Albania are not easy to reach so most of the tourists who don't plan in advance end up overpaying for transportation.
Is Ksamil a party town?
Ksamil is not known for its party, however the beachfront of the town is full of several beach clubs and dance clubs with party options.
Is it worth going to Ksamil?
Ksamil has incredible beaches but it is only worth going if you are already living in Europe or taking a long Eurotrip. Arriving in Ksamil from the United States is not easy so it is only worth it if you are staying more than 5 days.
Conclusion
There is a wide range of prices in Ksamil, and most of them are on the lower end so if you are planning a beach vacation on a budget in a place with beautiful water where you can relax I highly recommend you to follow the itinerary on this travel guide.