From feeling like a movie star on the stairs of the Palais des Festivals in Cannes to swimming on one of my favorite beaches in the charming town of Villefranche-sur-Mer, the Côte d'Azur has everything to take your breath away, and I am ready to convince you to put this amazing destination on your bucket list for next summer!
This time, I want to help you find out how much it costs to travel to the South of France by sharing my expenses from my last trip there in August 2022. I don't want to waste your time if you are in a hurry so I will share with you the total cost of the trip right below, but I suggest you read this full guide because I included the itinerary that I followed and it's cost breakdown so you can choose whether you want to spend money on those activities or not.
Are you ready to fall in love with the French Riviera? Allons-y!
Is the South of France expensive?
The South of France is one of the most expensive holiday destinations on the Mediterranean Sea, especially during the peak summer months. However, due to its size, the French Riviera offers several vacation options that can suit different budgets.
The total cost of a mid-range budget trip to the South of France with accommodation, activities, and transportation around the different towns of the French Riviera is €105 per day.
Planning your trip to the South of France
If you're planning a trip to the South of France, it's important to consider a few key factors before you go. In this section, I will try to cover some basic stuff that you need to know before traveling such as transportation options and the best towns and cities to stay around the Riviera.
When it comes to choosing a base for your trip, there are many different towns and cities to choose from along the South of France. Two of the most popular options are Cannes and Nice. Cannes is known for its glamorous atmosphere and luxury accommodations, while Nice is a bit more laid-back and offers a wider range of budget-friendly options. Both cities have great transportation links to other towns along the coast, so you can easily explore the surrounding area from either base.
That being said, there are also some cons to consider when staying in some of the smaller towns along the coast. For example, while Menton offers a quieter and more relaxed atmosphere, it may not have as many restaurants, nightlife options, or things to do as other towns. Villefranche-sur-Mer, while picturesque and charming, can be quite hilly and may not be the best option for those with mobility issues. Antibes, while a great option for those interested in history and culture, may not be as convenient for those wanting to explore other towns along the coast due to its location.
Ultimately, I recommend you to choose first which towns around the Riviera you will want to explore during your trip and then decide your base taking that into consideration. Furthermore, you can also check our article about the most affordable French Riviera Towns to learn more about your options.
TIP: when planning which activities you want to experience during your trip keep in mind that there is a French Riviera Pass that might be useful for you depending on your itinerary. We have an article about if the French Riviera Pass is worth it that I recommend you read before you book any activity.
How much does accommodation costs in the South of France
The prices of hotels along the French Riviera can vary widely depending on the town and season. You could argue that Cannes and Nice have higher accommodation prices, but since they are larger cities compared to smaller towns like Eze and Saint Jean Cap Ferrat, there are more options for every budget in those places.
Smaller towns like Menton, Antibes, and Villefranche Sur Mer are typically more affordable, but they offer fewer accommodation options, especially Airbnb rentals. Therefore, if you don't book your stay in advance, you may end up paying more than you would in larger cities.
I have created a rough breakdown of average prices by town and season, but my recommendation is to check the dates you are looking for at Booking or Agoda to have a clearer estimate.
The average cost of accommodation
Cannes:

High season (June to August): €200-€300 per night for a mid-range hotel; €400+ per night for a luxury hotel
Low season (September to May): €100-€150 per night for a mid-range hotel; €200-€300 per night for a luxury hotel
Nice:

High season (June to August): €150-€250 per night for a mid-range hotel; €300+ per night for a luxury hotel
Low season (September to May): €75-€125 per night for a mid-range hotel; €150-€250 per night for a luxury hotel
Antibes:

High season (June to August): €150-€250 per night for a mid-range hotel; €300+ per night for a luxury hotel
Low season (September to May): €75-€125 per night for a mid-range hotel; €150-€250 per night for a luxury hotel
Menton:

High season (June to August): €100-€200 per night for a mid-range hotel; €250+ per night for a luxury hotel

Low season (September to May): €75-€100 per night for a mid-range hotel; €150-€200 per night for a luxury hotel
Villefranche-sur-Mer:

High season (June to August): €150-€250 per night for a mid-range hotel; €300+ per night for a luxury hotel
Low season (September to May): €75-€125 per night for a mid-range hotel; €150-€250 per night for a luxury hotel
How much I spent on accommodation in August 2022
I traveled to the South of France in August 2022 for a 4-day trip with my mom and sister. We had a mid-budget, meaning that while we didn't want to splurge, we were willing to spend a little more for a better location and a nicer place.
​​We wanted to stay as close to the ocean as possible, so we searched for an apartment or hotel near the Promenade des Anglais. Since we were traveling during the high season, we found that the best value for our money was to book an Airbnb.
We ended up booking a one-bedroom apartment a couple of blocks away from the famous Le Negresco Hotel. The apartment not only had an amazing balcony to enjoy summer nights but also came with a secret key to use a private passage that took you right away to the Promenade.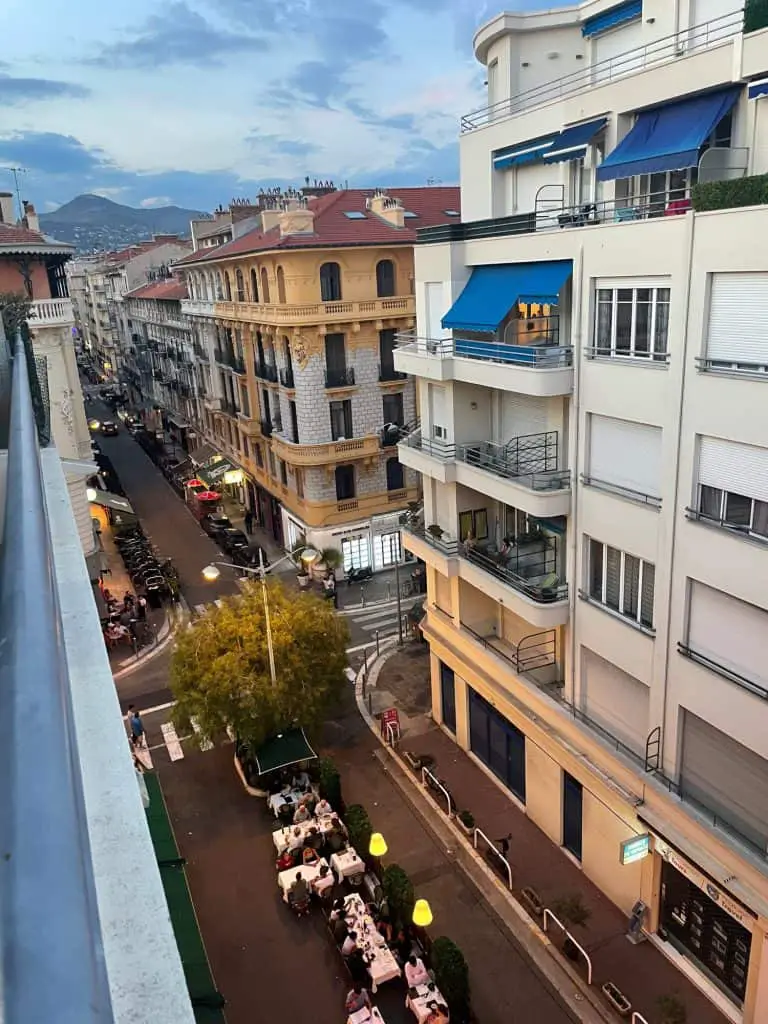 The total price of the accommodation was $821.80 USD (€753) for 4 nights, which comes down to $205.50 per night or $68.50 per person, per night.
Transportation in the French Riviera
There are several transportation options along the Riviera such as trains, buses, and rental cars. In our case, we chose to explore the French Riviera without a car and use the trains as our main form of transportation.
Trains are one of the most popular ways to travel between cities along the coast, not only because they are convenient and affordable, but also because they offer spectacular views of the coastline. The coastal railway line runs from Cannes to Menton and stops at all major towns and cities along the way.
Buses are another option for getting around, and they generally run more frequently than trains so they can be a good option for shorter journeys, although they usually take double of time compared to a train. However, if you are on a budget, buses can save you a lot of money too since, for example, on my trip, I paid for a bus ride from Nice to Villefranche Sur Mer €1.50 while the return journey by train cost me €7.
Finally, rental cars are a popular choice for those who want to explore the region at their own pace, but you have to make sure to book in advance since the cheapest cars tend to be sold out fast. I suggest you book an Airbnb with a private garage included if you decide to rent a car, otherwise, the costs of your trip will go up faster.
4-day Itinerary in the French Riviera and costs breakdown
Below I will share with you my trip report with the exact places that I visited and how much spend each day. The idea is to help you to set expectations about how much you can spend doing a similar trip.
Day 1: Arriving at Nice
Previous to our trip around the Blue Coast we visited Cinque Terre, so we crossed the French-Italian border and arriver at the Nice Riquier station. I will exclude the costs of getting in and out of the South of France because it will vary depending on where are you coming from.
Once we arrived at the station we took a €12 Uber ride to our apartment. Because we arrived one hour early for our check-in time, we decided to grab a hamburger and a soda at a local shop next to our Airbnb. The full meal ended up costing us €15 per person but honestly, it wasn't good at all.
It was a really hot day so once we got into the apartment we put a bikini on and we were ready to soak some sun at the beach, which was just 2 minutes away from us.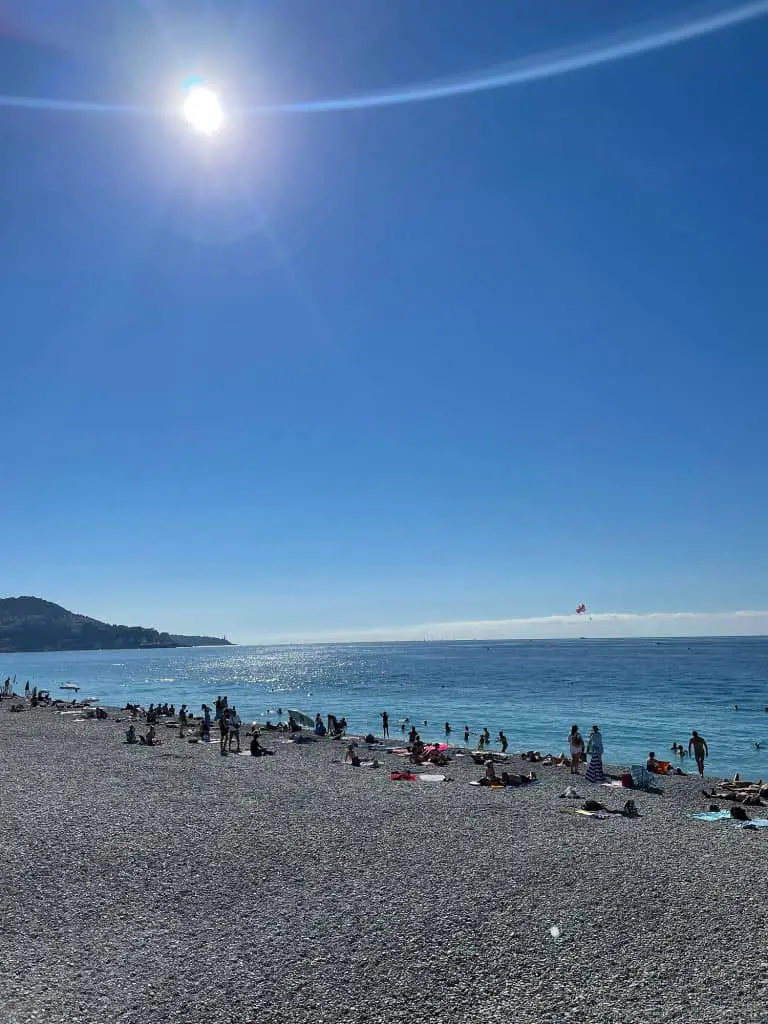 After a beach nap and some reading under the sun, we decided to head to our place to change our clothes and explore some of the shops at the Rue de la Liberté and Jean Medecin streets.
We ended the day having dinner at Monsieur Albert France, a 'hot dogs a la Francaise' place located right in the middle of the famous Place Massena. The restaurant was really casual and laid back but we chose to sit here because of the amazing views of the square.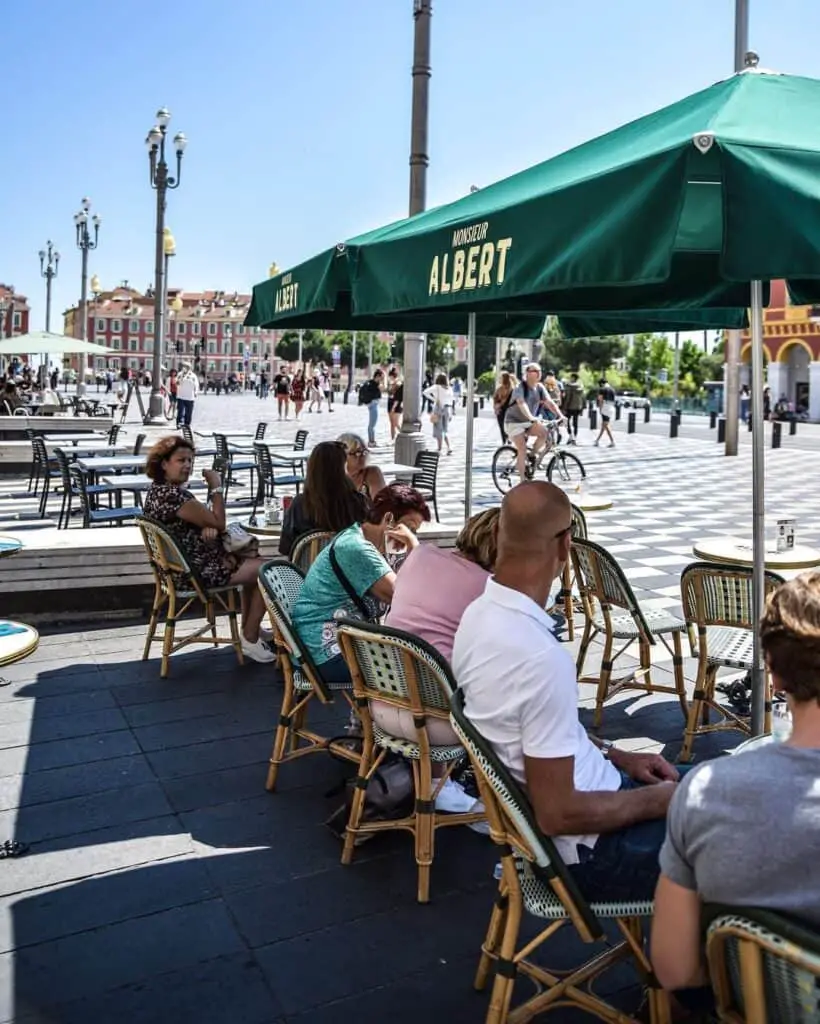 We ordered a special menu of a hot dog and a beer for €11.50. While it was nothing fancy, the hot dog was actually amazing! I ordered the Monsieur Albert which came with German sausage and Camembert cheese from Normandie.
Total cost of day 1: €38.50
Transportation: €12
Activities: €0
Food: €26.50
Day 2: Nice Old Town & Villefranche Sur Mer
For our first full day in Nice we decided to take a guided tour around the Old Town to understand better the past and present of the city and discover some off the beaten track places.
We booked a free walking tour with Riviera Bar Crawl Tours and headed to Place Massena again to meet our guide at the Fontaine du Soleil.
The tour was excellent and we got the chance not only to visit the Old Town but also to indulge ourselves with local food at the Farmers Market and enjoy amazing views of the city at the top of the Castle Hill.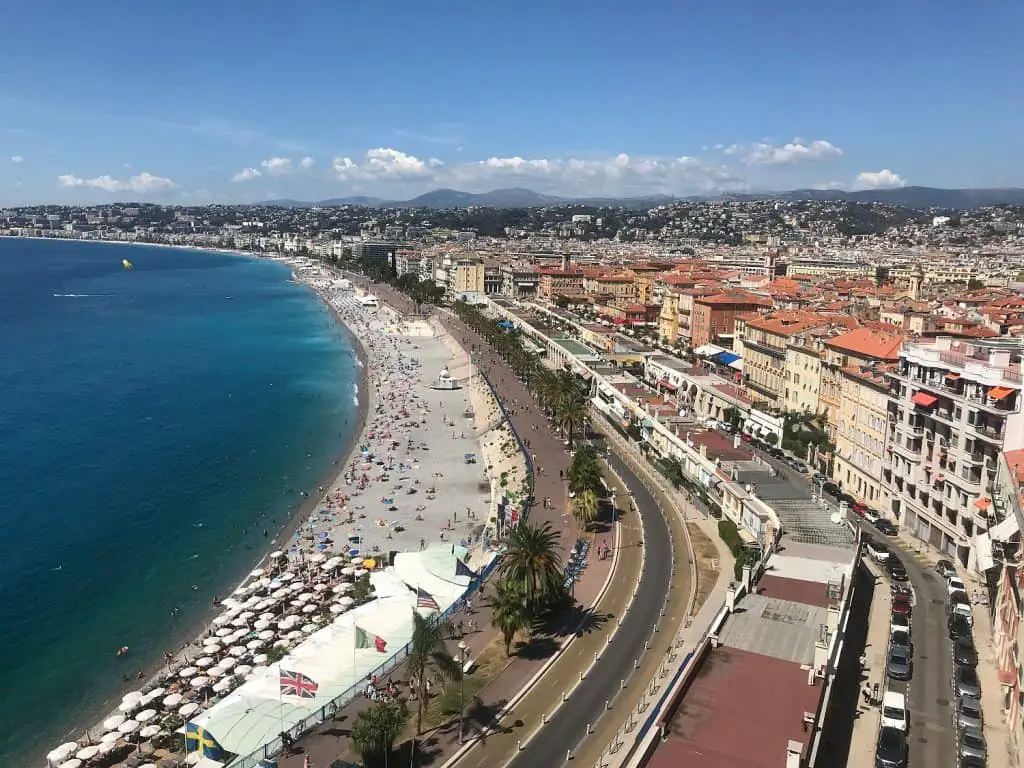 When taking a free walking tour it is not mandatory to tip your guide but you are expected to do it. There is no right set amount but I usually check how much the same company charge for group tours and use that number as a guide.
The Riviera Tours charged €10 per person to take the same tour as a large group and Viator had a similar paid tour for €31, so we decided to tip €15 per person to our guide.
Our next mission was the beach, so we took a bus a couple of blocks away from Castle Hill (where we ended our tour) heading to Villefranche Sur Mer. It cost us €1.50 and it only took us around 30 minutes to get there.
Before heading to the beach we explored the town and had lunch at La Mere Germaine, a family-owned seafood restaurant open since 1939. The restaurant is located right in the bay with stunning views and offered a lunch deal of €38 per person for a starter dish, a main course, and a glass of wine.
Villefranche Sur Mer definitely was my favorite beach in the South of France so I highly recommend you not to skip it!
To come back to Nice we decided to take a train for €7. While we were walking to our place from the train station we stopped by a Carrefour supermarket where we bought €7 meal boxes to enjoy on our apartment's balcony after a busy day wandering around the Riviera.
Total cost of day 2: €68.50
Transportation: €8.50
Activities: €15
Food: €45
Day 3: Monaco
On our second full day in Nice, we decided to fulfill one of our top bucket list items by taking a day trip to Monaco. We started our day early at Nice's train station and paid €8.80 for a round-trip train ticket to the Monte Carlo Train Station.
Upon arrival, we headed straight to the Old Town, located at the top of the city, to explore its picturesque pastel streets. We visited the Monaco Cathedral, took in the incredible panoramic views, and caught the changing of the guard at noon in the square where the Prince's Palace is located.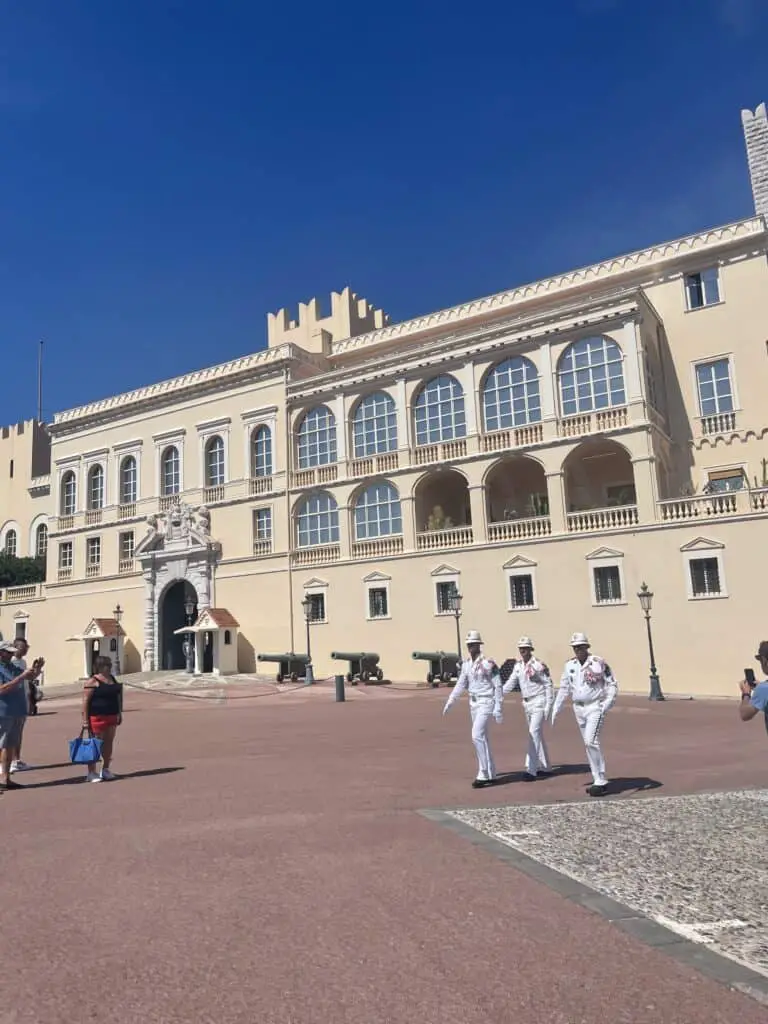 If you're visiting Monaco on a budget, my advice is to plan your itinerary so that you can have lunch in the Old Town, where most of the budget-friendly options are located. In our case, we sat at a pizza place and had pizza and sodas for €36, or €12 each.
After lunch, we took a break at the Port Viewpoint in the Old Town to enjoy the views of the harbor before returning to the city center to visit the popular Monte Carlo Casino.
We ended our day at Larvotto Beach, which was recently renovated and now offers free changing rooms and bathrooms for the public. Beach sunbeds at Larvotto cost around €36 per couple at the different beach resorts but we opted to lay down on the public beach and later enjoy an Apperol (€15) at one of the bars.
Back in Nice we decided again to stay at the apartment so we grabbed some pasta and cheese from the supermarket (€18 total, €6 each) and had a girls night at our French apartment.
Total cost of day 3: €41.80
Transportation: €8.80
Activities: free!
Food: €33
Day 4: Cannes
On our fourth day, we headed to Cannes, which is known for hosting the Annual Cannes Film Festival. Similar to the previous day, we started our day early at the Nice-Ville train station and purchased roundtrip tickets for €15.9.
As a film lover, this was one of the most exciting days for me and the perfect way to spend our last day full day at the Cote D' Azur.
Upon arriving in Cannes, we took a leisurely stroll around the Old Town, known as Le Suquet, and visited the famous Marché Forville, a bustling farmers market. From there, we climbed the narrow steps to reach the Notre-Dame de l'Espérance Church, which offered a panoramic view of the town.
Our next stop was the Boulevard De La Croisette, a popular oceanfront boardwalk lined with luxury brands, restaurants, and hotels. This is also where the Palais des Festivals, the venue where the Cannes Festival takes place, is located.
After that, we went shopping along Rue d'Antibes, a bustling street that features local brands but also international ones like Zara, Calzedonia, and Benetton. Once we finished shopping, we stopped at a café for a salad and a soft drink ( €13) and headed to the beach for some relaxation before heading back to Nice.
That evening, we decided to have our last dinner in Nice at a trendy tapas restaurant called Z Restaurant Tapas, located near the Promenade des Anglais. We were pleased with our choice as the food was exquisite and the price was very reasonable. We ended up paying €87, which included 13 tapas and 3 gin and tonics, at a cost of €29 per person.
READ MORE: If you are also visiting the nearbytown of Antibes I recommend you to check out our Antibes restaurants with a view guide
Total cost of day 4: €57.9
Transportation: €15.9
Activities: free!
Food: €42
Total Costs: how much does it cost to travel to the South of France?
The total cost of traveling 4 days around the South of France during the high summer season (August) is €419 including transportation around the Riviera, accommodation, food and activities.
This number is for a mid-buget trip and excludes transportation in and out of the Cote D' Azur. You could spend a significant less amount if you choose an hotel or Airbnb in the Old Town of Nice or you could easily increase your bill by renting a car, visiting more paid activities, and renting umbrellas and sun chairs at the beaches.
If you are looking to lower the costs of your trip I recommend you to read our article with tips for backpacking in the French Riviera
FAQ
What is the cheapest way to travel in the South of France?
The cheapest way to travel around the different towns in the Sout of France is taking the Regional Train (TER) and using the public bus system. 
In terms of accommodation, the cheapest option is to either stay in less popular towns such as Juan Les Pins or to base yourself in Nice which, thanks to its size, offers a wide range of apartment and hostel options.
How long should I spend in the South of France?
You should stay in the South of France for at least 4 days, or even a week if you are traveling during the summer.
There are several towns around the Riviera and you will probably want to explore a lot of them. In addition, if you travel during the summer months you will dedicate a large part of your stay to enjoying the beaches around the coast, so it is important to consider that when choosing the length of your stay.
Can you do South of France without a car?
There is no need to rent a car in the South of France, the towns and cities are well connected by train and bus. However, it is recommended to rent a car if you are in a larger group where the cost of train tickets can quickly add up, or if you want to visit off-the-beaten-path places such as the Billionaires Bay secluded beach in Antibes.
What is the cheapest part of the South of France?
According to our research, the cheapest town in the South of France is Menton. However, it can vary a lot depending on the season and how far in advance you have booked your accommodation.
Is the South of France more expensive than Paris?
During the summer months, especially in August, the South of France tends to be pricier than Paris. During the rest of the year, you will find Paris more expensive that the Cote D' Azur
Is Cannes in France expensive?
Cannes is generally considered one of the more expensive destinations in the South of France, particularly during the Cannes Film Festival. However, there are budget-friendly options available if you escape from the city center and base yourself in Cannes La Boca.
What is the best month to go to South France?
The best time to visit the South of France is during May and September since both months offer mild beach weather with fewer crowds. Summer months (June-August) are busier and more expensive.
How much is a train ticket from Paris to the South of France?
Train tickets from Paris to the South of France start around €30 and can go up to €120 depending on the season, the level of service (is it a regular seat or a sleeper coach) and how far in advance your booked your ticket.
An average price for a ticket booked 3 months in advance is €60, while booking a ticket a week in advance will increase the number to €130
How long is the train from Paris to South of France?
The average duration of a train from Paris to Nice is 05:30 hours. During peak season there is a night train available with sleeper cabins on it which can help you save a night of accommodation in the Riviera
Conclusion
The cost of your trip to the French Riviera will highly depend on the season you are traveling. If you travel in the summer months you will pay more for accommodation but most of your time you will be exploring different beaches, which can be done for free. Otherwise, if you decide to travel in the winter months, you will probably use the extra time to visit more paid activities such as art museums and historic villas.