Whether you are planning a week-long trip to the stunning coastal town of Antibes or simply passing by during a day trip from a nearby town, enjoying mouthwatering cuisine at one of the many amazing restaurants in Antibes with a view is something you don't want to miss.
Luckily for you, Antibes has something to offer for every palate and preference, so I have curated a list for you of the best restaurants that you can't miss, especially if you are looking for breathtaking waterfront views and old-money fashion vibes.
Grab your sunglasses, bring your appetite, and let the culinary adventure begin!
Before we start: plan your trip with our guides
If you are planning a trip to the French Riviera we have several articles that will help you decide where to stay, what are the best places to visit, and how much you should budget.
The 6 top restaurants in Antibes with a view
Maison de Bacon
This waterfront restaurant offers panoramic views of Antibes bay and the old town. With Mediterranean cuisine and an emphasis on seafood, the menu evolves around the seasons so you can expect to be delighted with different dishes depending on the time of the year that you visit it.
Their traditional lunch menu, called The Spirit of the South, costs €68 per person and includes an entree, main dish, and dessert.
Le César
Located on the private beach, Page Keller, Le César is a beachfront restaurant with a terrace overlooking the sea.
The restaurant is run by the famous chef Olivier Condat and not only serves French and Mediterranean cuisine with a focus on fresh seafood but also sushi and makis.
Les Vieux Murs
This restaurant is near the famous Fort Carré and boasts a picturesque port view. It features a diverse menu showcasing French cuisine with a contemporary twist.
While the inside under vaulted ceilings is stunning you won't see much of the sea from there so if your goal is to have lunch with a view of Antibes, I recommend you to book in advance an inside table located right next to the windows or directly ask for a spot at their terrace.
Le Club at the Provencal Golf Club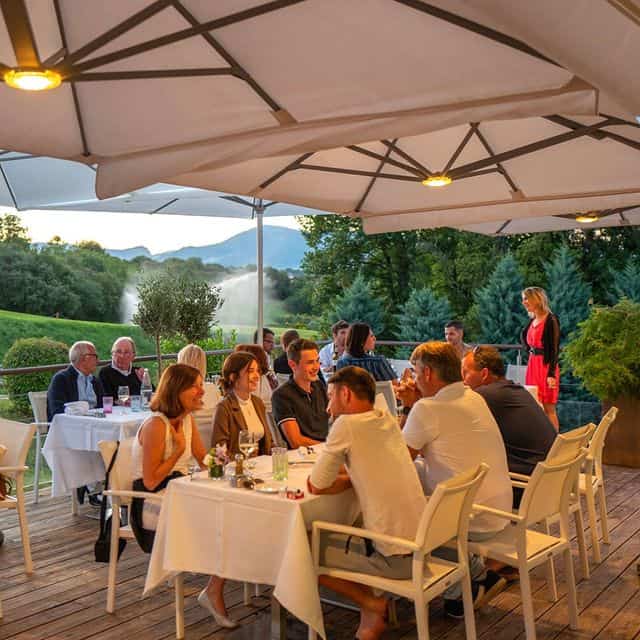 If you want to experience Antibes off the beaten path I totally encourage you to visit Le Club at the Provencal Golf Club and have a meal at the terrace of their restaurant Le Club.
With lunch offers ranging between €14 – €22, Le Club offers an affordable menu with unique views of the Provence.
Les Pecheurs
With one Michelin star, Les Pecheurs is a classic of Antibes located inside the Cap D'Antibes Beach Hotel. The restaurant is famous for its use of fresh ingredients; the producers are chosen locally and the seafood is chosen every morning from their fishermen.
If you want to get a similar view on a smaller budget I also recommend you to check out Baba, a beachfront restaurant located in the same hotel.
Eden Roc Lounge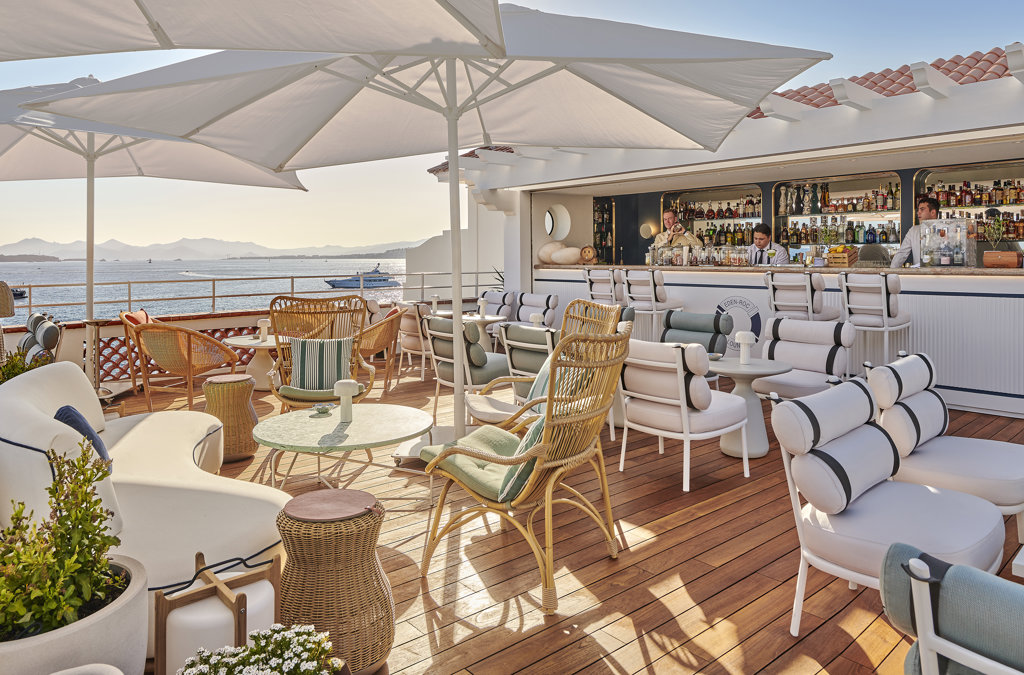 Loved by the biggest celebrities in the world, Eden Roc Lounge at the Hotel du Cap Eden Roc is an excellent choice for a sunset cocktail or a fun night with beach views.
The bar is on the rooftop of the sea-facing Eden-Roc Pavilion and opens at 18.00hs with a offer of a wide variety of wines and cocktails and a selection of caviar and tapas.
Conclusion
From stunning beachfront locales to rooftop terraces overlooking the town, these culinary gems offer jaw-dropping vistas and mouthwatering flavors.
While most of the restaurants in Antibes with a view aren't exactly budget-friendly, if you are willing to splurge on a special occasion I promise that the experience will be worth every penny.
If you are traveling to Antibes and the rest of the South of France in June, July, and August and are set to visit some of these restaurants, in my experience is best to book a table in advance or be ready for a change of plans since the summer months tend to be really crowded in the Riviera.