If you are looking to get from Ksamil to Tirana by bus you might have noticed that there isn't much information available online. I felt the same way back when I was planning my latest trip to the Albanian Riviera so I made it my goal to document everything I went through to come back and help you with your next holiday.
To get from Ksamil to Tirana by bus you need to take a bus or a taxi to Saranda and from there take a local bus that goes to Tirana. The bus costs $2,000 leks (around $20.50 US dollars) and there are several departures in the summer season, most of them being in the morning.
Depict this, getting taking the bus from Ksamil to Tirana is actually a little bit tricker since you can't book your tickets in advance and the bus station isn't easy to find. There is also little information about the timetables so it is best to always have a plan b in mind.
To help you sort out these issues and enjoy your time in Albania I will cover in this blog post my exact journey taking the bus, how I booked my tickets, and other alternative options.
I also recommend you to read my full Ksamil travel guide where I shared more insights about the things to do, the best restaurants, and the prices that you can expect to pay.
Let's start!
How to get from Ksamil to Tirana by Bus
To get from Ksamil to Tirana by bus you first need to go to Saranda since the bus departs from there. You can opt to take a bus that costs $100 leks ($1 USD) and departs every hour from 6.30 am to 6.30 pm or you can take a taxi which usually has a fixed rate of $1500 leks ($15.30 USD).
The bus journey from Saranda to Tirana takes only 3.30 hours. Despite some online blogs claiming it could take between 6 and 7 hours, my personal experience was different. I was initially skeptical when the bus staff told me about the shorter duration, but the bus arrived right on time after a journey of less than 4 hours.
When trying to take this route the first thing that you need to keep in mind is that you can't book the tickets in advance so I will cover below how to buy bus tickets from Ksamil to Tirana:
Where to buy Sarande – Tirana bus tickets in Ksamil
If you are in Ksamil and want to buy bus tickets to Sarande you have two choices: you can travel to Saranda and buy the tickets directly and the bus station or you can buy them at a local travel agency in Ksamil.
Since Saranda is 20 minutes away from Ksamil and we didn't plan to spend time there we decided to go through an agency called Ksamil Web (yes, that's the name). The agency is located right in the center of Ksamil and closes at 10.30 pm which is great if you want to explore during the day.
TIP: Ksamil Web has a WhatsApp number that they answer right away (+35567 5005 999) so I recommend you to write them as soon as you reach Ksamil to ask for the current bus timetables and secure your space on the bus (they tend to sell out fast in the summer)
Beware that you can only buy the tickets in cash so you need to go to an ATM or a currency change house first.
Saranda – Tirana bus timetable
| | |
| --- | --- |
| Bus from Saranda | Bus from Tirana |
| 5.00 | 5.30 |
| 6.30 | 7.30 |
| 8.30 | 8.30 |
| 9.30 | 9.30 |
| 10.30 | 12.30 |
| 14.00 | 16.00 |
| 22.00 | 22.00 |
There are 7 daily departures on the route Saranda – Tirana – Saranda and most of them happen during the morning. However, you should keep in mind that this is the summer timetable so if you are trying to visit Ksamil in the offseason (October – April) I recommend you to check this information with your hotel as soon as you arrive in Ksamil so you have time to plan accordingly if the timetable changes.
My experience taking the bus from Ksamil to Sarande
After taking the Brindisi to Vlora ferry and a two-hour taxi ride, I arrived in Ksamil, excited to enjoy its beautiful beaches with my partner. We had a private boat ride, savored tons of mussels, and even partied a little. However, after spending four relaxing days in the town, we were ready to return to the city life in Tirana.
We booked our tickets directly from a local travel agency located right in the center of Ksamil. They gave us a receipt that we had to show at the bus stop so we were advised to arrive at least 30 minutes before the departure time.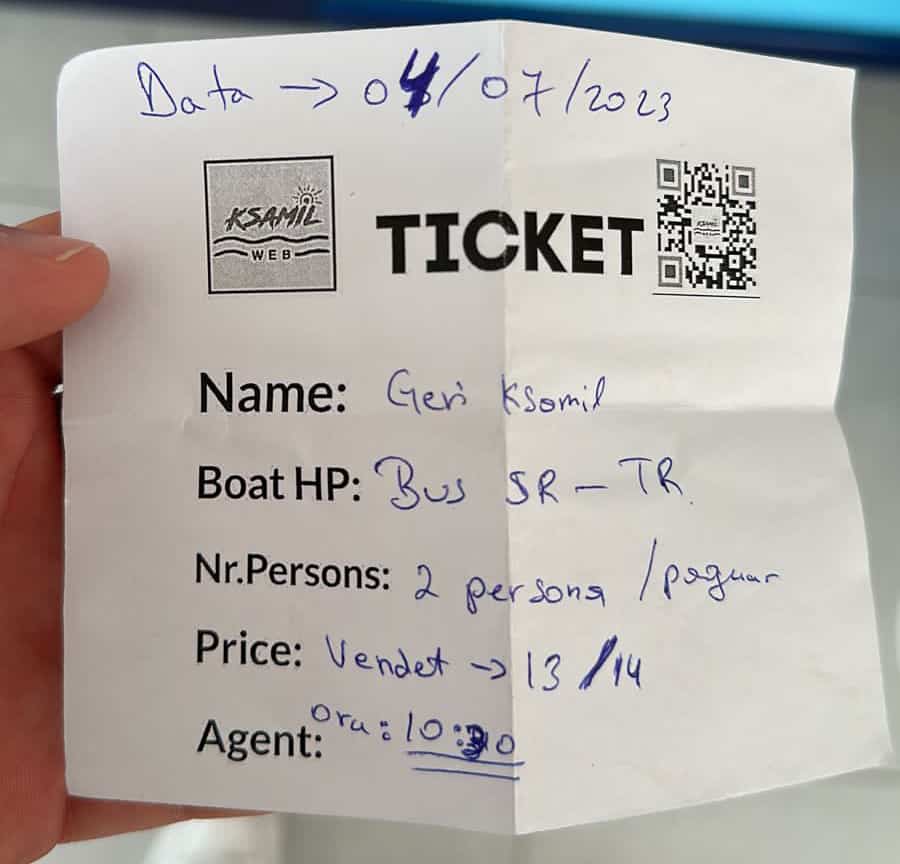 TIP: Believe it or not, the bus ticket office doesn't manage their reservations online, they use old-school notebooks. We arrived 15 minutes before the departure and they were about to resell our tickets because they didn't have any confirmation that we were actually going to travel so make sure to arrive 40 minutes early.
To get from Ksamil to Sarande we decided to pay for a taxi to avoid handling all our luggage on the streets. Most of the taxis around town have a fixed rate of $1,500 leks ($15.30 USD) and you can ask your hotel in Ksamil to book them the night before.
When people around Ksamil talked to us about the 'Saranda bus station' we were expecting a real bus station but it is actually just a little office on the street, so keep this in mind so you don't get lost. There aren't any buses except the one that is about to depart, so look for a bus parked on the street and that will be yours.
Below you can find the map with the exact location:
The seats are numbered so we drop our bags at the ​​bus luggage compartment and went to our seats to wait. After 10 minutes of waiting the bus departed on time and we headed to Tirana.
About an hour and a half after the trip departed we stopped at a gas station that had bathrooms and a nice café. According to our bus driver, this is a regular stop, it lasted around 30 minutes and honestly, it was very much needed considering how hot the day was.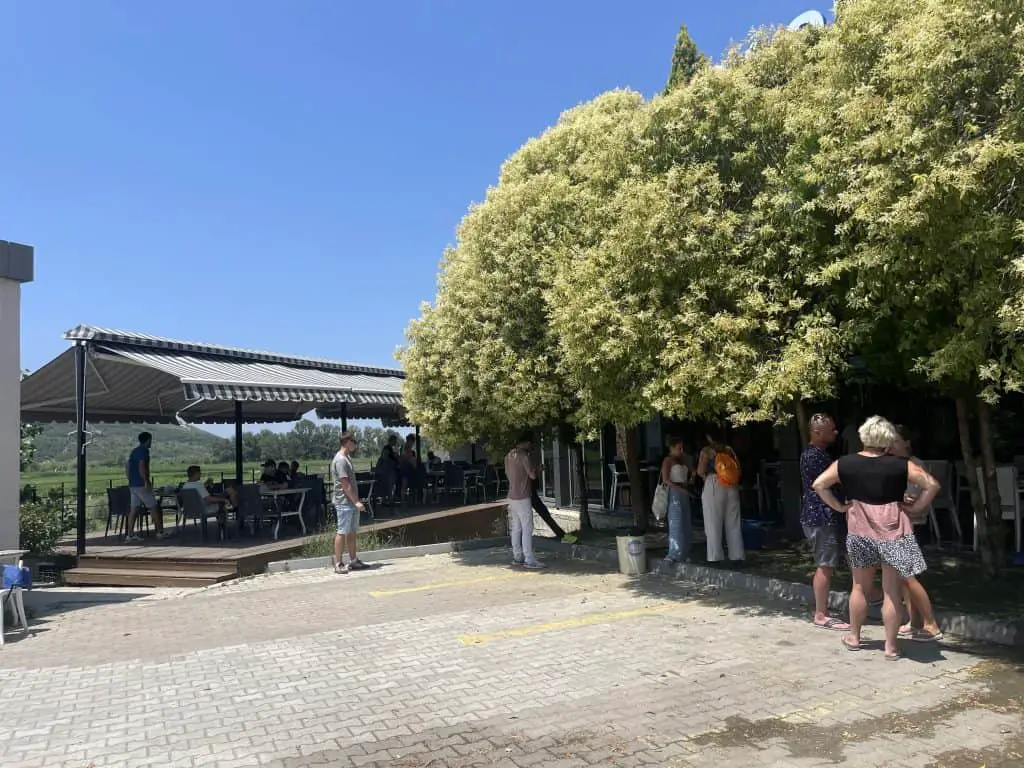 After 3 hours and 45 minutes, we arrived at Tirana's bus station. This was a real bus station and it was full of taxis waiting to take you to the destination, the bus driver spoke English and he was kind enough to arrange transportation for all of the passengers of the bus.
Overall it was a good experience, the bus was clean and had air conditioning and the whole trip cost only $56 USD for two people, including the commuting to the Saranda bus stop.
Other options to get from Ksamil to Tirana
Ksamil to Tirana by taxi
The easiest way to get from Ksamil to Tirana is by taxi. You can expect to pay between €120 and €150 and your hotel can book it for you.
If you are staying on an Airbnb or can't ask your hotel you will find plenty of taxi drivers parked in the town's center and most of them speak English so you can always approach them the day before. During my time in Ksamil I have used the services of 'Saranda Taxi', you can send the driver a WhatsApp message to this number to arrange: +355 69 671 7185
Ksamil to Tirana by rental car
If you prefer not to travel in a shared bus to Tirana or spend over €130 on a taxi, renting a car is a viable option. During my trip, I almost chose this option as there were several €90 deals available on Kayak.com. However, the only downside is that the rental companies allowing you to drop the car off in Tirana are located in Saranda, so you'll need to budget for the transfer from Ksamil to Saranda as well.