Both the French Riviera and the Amalfi Coast are popular destinations known for their beautiful scenery, charming towns, and Mediterranean climate so it is not unusual that a lot of travelers struggle every year to choose between one of them when planning for their next vacation
When it comes to choosing a winner for the French Riviera vs Amalfi Coast battle, the choice between the two will depend on your personal preferences and the type of holiday you are looking for.
To help you decide where you should travel next, I have compared both destinations based on several aspects you might like to consider, such as weather, available activities, travel expenses, and more.
If you are in a hurry, feel free to check a quick roundup that can help you to decide between the French Riviera vs. the Amalfi Coast.
Amalfi Coast vs French Riviera: Round Up
The French Riviera has the best beaches and is the ultimate pick if you are looking for cultural activities and a city environment. However, If you prefer a romantic and laid-back atmosphere and incredible coastal sights then the Amalfi Coast is best for you
Best for budget travelers: French Riviera
Best weather: Amalfi Coast
Best for traveling off-season: French Riviera
Best for weekend travelers: Amalfi Coast
Best for honeymoon: Amalfi Coast
Best for family travel: French Riviera
Best for partying: French Riviera
Best sceneries: Amalfi Coast
Best for foodie lovers: Amalfi Coast
Best for cultural activities: French Riviera
Best for slow travel: Amalfi Coast
Best for beach lovers: French Riviera
Amalfi Coast vs French Riviera: some things to consider
The French Riviera, or Cote d'Azur, is located on the Mediterranean coast of southeastern France and is known for its glamorous resorts, luxurious yachts, and beautiful beaches. The region is home to famous towns such as Nice, Cannes, and Saint-Tropez, and offers a wide range of activities such as sailing, shopping, and dining. It is also home to several art museums, including the famous Matisse Museum in Nice and the Picasso Museum in Antibes.
The Amalfi Coast is located on the southern coast of Italy, it's a UNESCO World Heritage site, known for its picturesque towns, rugged coastline, and crystal-clear waters. The region is home to famous towns such as Positano, Amalfi, and Ravello, and offers a wide range of activities such as hiking, swimming, and boat trips. The Amalfi Coast is also known for its delicious Mediterranean cuisine and local lemons which are used to make Limoncello.
In my personal opinion, the long extension of The French Riviera makes it an ideal destination for longer stays since you can pick a town to base yourself and do endless day trips to explore the Riviera, while the Amalfi Coast is perfect for those looking to disconnect and slow travel while admiring the most charming views on earth.
Because each person is different, I will compare different aspects of each destination so you can decide which one is better for the type of trip you have in mind.
Let's start!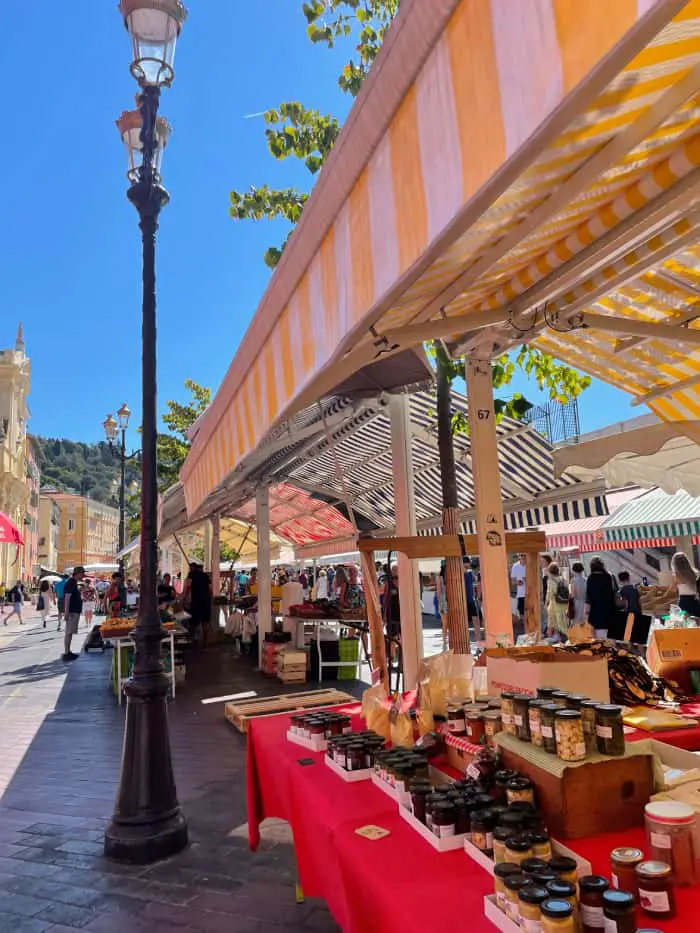 Weather
One of the most important things to consider when planning a trip is the weather at your destination.
In this case, when comparing the South of France to the Amalfi Coast, you will notice that both destinations have practically the same Mediterranean weather, which means hot summers and dry and mild winters.
While both the French Riviera and the Amalfi Coast are known for their sunny days, if you are traveling during the autumn months, you should know that in the French Riviera, sunny days might alternate with cloudy and rainy days, while the Amalfi Coast is more likely to keep the sun shining.
Prices
While many travel blogs claim that the Amalfi Coast is cheaper than the French Riviera, I personally disagree because the truth is a bit more complicated. Let's take a closer look at the costs of travel to both destinations:
When it comes to food, the Amalfi Coast is generally less expensive than the French Riviera. Budget, mid-range, and luxury restaurants all offer great value for money. However, when it comes to accommodation, the story is a bit different. While hotels on the Amalfi Coast can be cheaper, there are fewer options available, particularly for mid-range budgets. This means that, If you don't book in advance, you may end up paying more for an upscale hotel.
The South of France, on the other hand, offers a wider variety of accommodation options, including many affordable Airbnb rentals in popular cities like Cannes and Nice, and you can even choose to stay on a more affordable French Riviera Town like Saint Raphael or Cagnes Sur Mer. This means that you're more likely to find a good deal on accommodation that fits your budget.
Another thing worth considering is that the French Riviera is larger and its most popular destinations are actually cities rather than small towns (think about Cannes vs. Positano for example), so the Airbnb offer is much more extensive and apartments tend to be cheaper than hotels on similar conditions.
RELATED: If you are backpacking Europe we have a full guide on backpacking in the South of France with useful tips to organize a budget-friendly trip.
In summary, while the Amalfi Coast may be cheaper for food but the French Riviera offers more options for affordable accommodation. To make the most of your trip, it's important to consider your budget and travel preferences carefully, so make sure to check this article where we dig more into the cost of travel to the French Riviera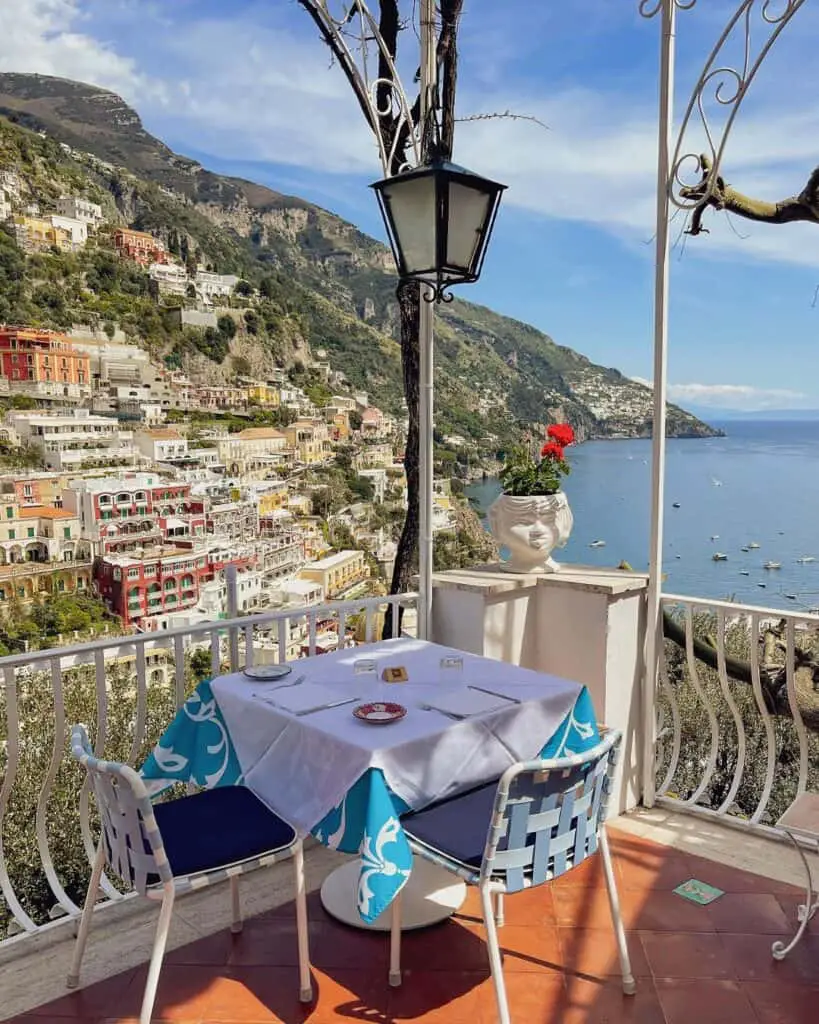 Cultural activities and things to do
When it comes to cultural activities, the South of France has a lot more to offer than the Amalfi Coast. The region is home to many world-renowned museums and attractions, such as the International Museum of Perfume in Grasse and the Villa Ephrussi de Rothschild in St Jean du Cap Ferrat. Additionally, there are many opportunities to enjoy live theater performances, concerts, and art exhibitions.
While the Amalfi Coast may not have as many museums and cultural attractions as the French Riviera, it has its own unique charms. Visitors to the region can enjoy wandering around picturesque towns, taking scenic boat trips, and indulging in the local cuisine. Whether you're sipping on an Aperol Spritz or savoring a plate of exquisite pasta, the Amalfi Coast offers a feast for the senses.
Both destinations offer breathtaking views and relaxing beach clubs, but the French Riviera is the better choice for families and culture lovers who want to explore museums, attractions, and cultural events. The Amalfi Coast, on the other hand, is perfect for those who want to relax, unwind, and soak up the local atmosphere.
Top things to do on the French Riviera
Visit the famous Promenade des Anglais in Nice
Do a free walking tour of the Old Town of Nice and its charming streets and squares
Visit the Matisse Museum in Nice
Take a boat trip to the Île Sainte-Marguerite from Cannes
Visit the Musée des Arts Asiatiques in Nice
Visit the Musée d'Art et d'Histoire de Provence in Grasse
Do a day trip to Monaco and visit the famous Monte-Carlo Casino
Take a bus tour to Monaco and enjoy the views of the Mediterranean Sea
Visit the famous Château de la Napoule in Mandelieu-La Napoule
Visit the Fragonard Perfume Factory and Museum in Grasse
Take a stroll along the Croisette in Cannes
Visit the Cannes Film Festival Palace
Visit the Picasso Museum in Antibes
Visit the Renoir Museum in Cagnes-sur-Mer
Visit the famous St. Tropez harbor
Visit the Villa Ephrussi de Rothschild in Saint-Jean-Cap-Ferrat
Visit the Musée National Fernand Léger in Biot
Visit the Musée de la Castre in Le Suquet, Cannes
Enjoy the scenic waterfront and the French cuisine in one of the best restaurants in Antibes
TIP: I recommend you to read our French Riviera Pass Review which can help you understand better the different things you can do around the Cote D'Azur and its prices.
Top things to do in Amalfi Coast
Visit the town of Positano and its famous beach
Visit the town of Amalfi and its famous cathedral
Visit the town of Ravello and its famous gardens
Take a boat trip to the Li Galli islands
Visit the famous Grotta dello Smeraldo in Conca dei Marini
Take a hike along the Sentiero degli Dei
Visit the famous Villa Rufolo in Ravello
Visit the town of Minori and its famous beach
Visit the town of Atrani and its famous beach
Transportation
In general, transportation around the Amalfi Coast is a little more tricky (and expensive!) than moving around the French Riviera, however, it can vary depending on each travel group.
Are you traveling solo? Are you in a large group? Can you be adventurous and rent a scooter or are you traveling with your grandma?
I will explain below the pros and cons of each destination so you can choose based on your personal situation:
How to move around the Amalfi Coast
Getting around the Amalfi Coast can be a bit tricky due to the winding coastal roads, but there are several options to choose from depending on your preferences and budget.
If you're planning to stay in one of the towns on the Amalfi Coast such as Positano, Amalfi, or Ravello, you have four main options to move around:
Getting around the Amalfi Coast by bus
A quick Google search will recommend you to use Sita Bus, the local bus system, to travel around the different towns of the Amalfi Coast. However, if you look after real people's opinions in forums and Facebook groups you will notice that there are actually several downsides to this transportation method.
While the buses are inexpensive, a journey between Amalfi and Ravello is only €1.30, they are also really overcrowded during the high season that takes place from April to October. This not only causes delays and people having to stand during the whole journey, but it is also common for passengers to experience motion sickness due to the narrow and winding roads and the overcrowded conditions. Moreover, the bus schedules are not always reliable, and a journey that should take 40 minutes may end up taking an hour and a half due to heavy traffic and crowds.
If you are traveling on a budget but staying in an Amalfi Coast Town such as Amalfi, Positano, Minori, Praiano, etc, the bus is still a good option to move around, but if you are traveling with older people or are simply looking for peace of mind I would recommend you to dig into more of the options explained below.
On the other hand, if you are traveling on a budget and decided to base yourself in Sorrento or Salerno and commute every day to save money, then I urge you not to rely only on public buses to move around the coast because it will consume you a lot of time. In this case, my recommendation is to either decide between using the ferry system or renting a scooter, or combine a bus trip to the closest Amalfi Town and from there choose another transportation method
Getting around the Amalfi Coast by ferry
While this is one of the most expensive options for getting around the Amalfi Coast, it is actually the one that I recommend the most, not only because the picturesque views along the way but also because it is the most time convenient.
The ferry service is operated by a few different companies, such as Travelmar, Positano Jet and NLG, and the main advantage that it offers is that you can avoid the crowded and winding roads that can make bus or car travel stressful.
Ferry routes connect most of the towns along the coast, including Positano, Amalfi, and Sorrento, as well as the islands of Capri and Ischia. The frequency of the ferry service varies depending on the season, with more frequent services during the high season.
The cost of the ferry tickets can vary depending on the destination and the season so I have created a table below showing you different itineraries and their prices for June 2023:
| Departing from | Arriving at | Price |
| --- | --- | --- |
| Amalfi | Minori | €5 |
| Positano | Amalfi | €10 |
| Salerno | Positano | €15 |
| Amalfi | Capri | €25 |
| Sorrento | Positano | €16 |
It's important to note that the ferry service can be affected by weather conditions, particularly during the winter months. It's always a good idea to check the schedules and conditions before planning your journey.
Renting a car to drive around the Amalfi Coast (and why you should rent a scooter instead!)
It is not worth renting a car to explore the Amalfi Coast since it is almost impossible to move around with it. Besides the narrow roads that we covered before, in June 2022 the Italian government issued a new traffic ban that restricts the entrance of cars to the main towns during the entire month of August and weekends from May to September.
During the dates mentioned before, private cars will be banned from accessing certain roads, including the SS163 "Amalfitana" road, during peak hours (from 9 a.m. to 5 p.m.). The restriction will apply to cars without a permit that are not owned by residents, taxis, or public transportation.
Because of this, if you are traveling alone or with a partner, I highly recommend you to rent a scooter to explore the towns. They typically cost between €40 and €60 per day and will allow you to have the flexibility of the car without having to worry about narrow roads, parking and traffic bans.
If you prefer to save money by staying in a nearby town such as Sorrento or Salerno you will need to either take the bus to an Amalfi Coast nearby town and from there choose any of the p
with better transportation connections, Salerno or Sorrento are good options. Both towns have train stations and ferry ports that connect to the major destinations on the Amalfi Coast. From Salerno, you can take a ferry to Amalfi, Positano, or Capri, while from Sorrento you can take a train to Pompeii, Naples or even Rome.
While staying in Salerno or Sorrento might seem like a good option to save money on accommodation, keep in mind that commuting every day can be time-consuming and exhausting. Also, the towns don't offer the same picturesque views and charm as the smaller towns on the Amalfi Coast. If you have limited time, it's better to stay in one of the towns on the coast to fully experience the beauty and atmosphere of the region.
How to move around the French Riviera
The French Riviera has an efficient and reliable transportation system that makes it easy to get around the region. Some of the most common transportation options are:
Train: The regional trains connect the major cities and towns in the South of France, which means almost all the main destinations that tourists usually visit (such as Eze, Cannes, and Villefranche Sur Mer) have a train station.
You can book your tickets online at the official SNCF website, but since the trains run so frequently, there is no need to book in advance. You can purchase tickets directly at the train station.
The cost of a train ticket varies depending on the distance and class, but it usually ranges between €5-20 for a one-way ticket. For instance, a one-way 2nd class ticket from Nice to Antibes costs €5.20, while a day trip from Cannes to Monaco will cost you €10.50 each way.
Bus: The French Riviera has an excellent bus network that covers most of the region and even allows you to reach places without train stations such as the lovely Saint Jean Cap Ferrat.
The buses are air-conditioned, comfortable, and reasonably priced. A single ticket costs around €1.50-2.00, and a day pass costs around €5-7.50. You can buy tickets at kiosks, ticket machines, or on the bus itself, but I highly recommend you to download the Lignes D'Azur official app (click here for Android and here for Apple) that will allow you to buy tickets through the app with your credit card and get live information about your journey.
Car rental: Renting a car is a popular option for those who want to explore the French Riviera at their own pace and visit different towns in one day without needing to worry about train and bus connections.
You can expect traffic during the high season and narrow roads when visiting smaller towns, but overall I think this is an excellent option if you are traveling in a group of +3 since you can book a car for almost the same price that a typical train roundtrip could cost you. For example, a roundtrip train ticket for 3 people from Niza to Cannes will cost €47.5 while, depending on the rental period, you can expect to pay for a car between €40 and €80 per day.
Taxi: Taxis and Ubers are widely available throughout the region but I only recommend you use them for moving around the town where you are basing yourself, otherwise you can expect to pay around €100-€200 roundtrip for common day trips such as Antibes to Cannes or Nice to Monte Carlo.
Pace of travel
If you're looking for a more relaxed pace of travel, the Amalfi Coast may be the better choice, thanks to its picturesque towns and slower way of life. On the other hand, the South of France is more known for its bustling cities and active nightlife, making it a great destination for those who want to go out and explore.
Nightlife
The Amalfi Coast is not known for its nightlife compared to other destinations, since most visitors to the region come for the small charming towns and amazing Italian food rather than partying. However, there are some bars and nightclubs that offer live music, DJs, and cocktails such as Africana in Praiano, one of the most exclusive places, and Masaniello Art Café in Amalfi.
On the other hand, the French Riviera is famous for its vibrant nightlife, which can be compared to other cities like London, Paris, and Barcelona. The region is home to some of the most popular and exclusive nightclubs in the world, such as the famous Club 55 in Saint-Tropez and Jimmy'z in Monaco, where you can often spot international DJs and celebrities.
If exclusive nightclubs are not your scene (or are out of your budget!) you can also find many beach clubs that turn into trendy bars at night or enjoy a pub crawl in Nice that will take you to fun but budget-friendly bars and allow you to meet new people if you are traveling alone.

La Guérite beach club party in Cannes
Overall, the French Riviera offers a more high-end and luxurious nightlife experience, while the Amalfi Coast offers a more relaxed and low-key atmosphere. It ultimately depends on what kind of nightlife experience you're looking for.
French Riviera vs. Amalfi Coast: who has the best beaches?
If you are a beach lover like me you will be probably wondering which of the destinations has the best beaches. Sadly, the answer is yet again… IT DEPENDS!
If you are looking for unique beaches with unseen scenery that you won't find anywhere else then the Amalfi Coast is your choice. However, despite the crystal clear water of the beaches, many of them are quite small and rocky, with limited facilities.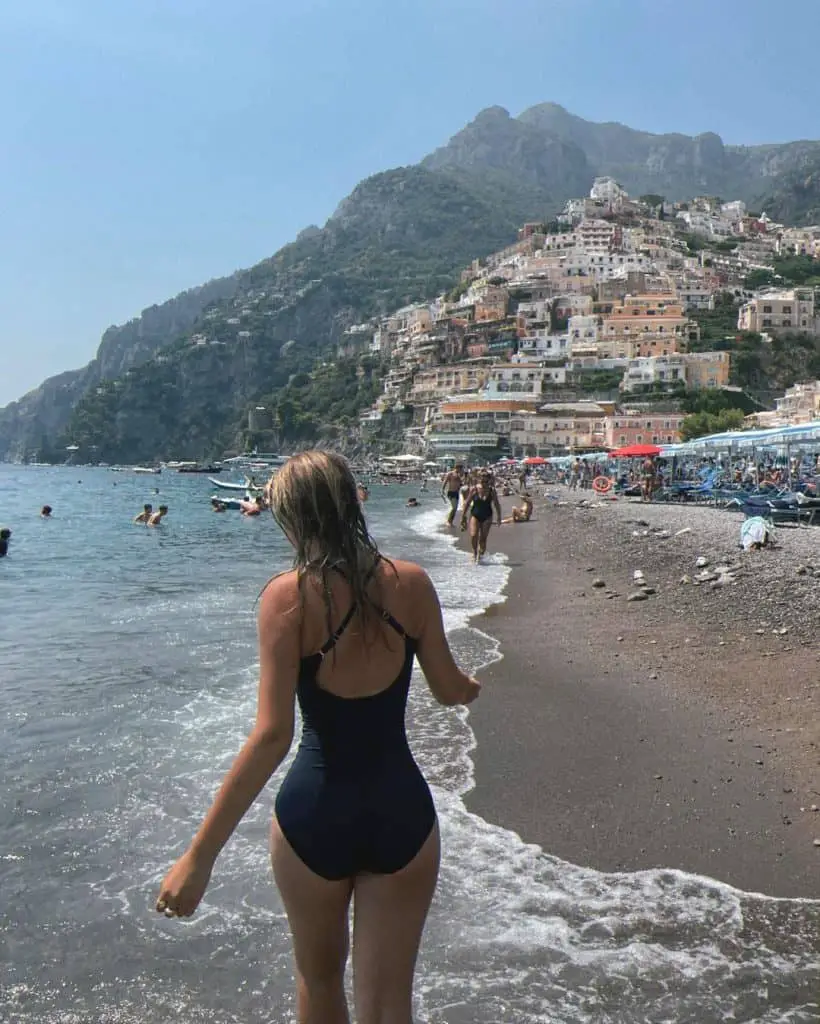 In my opinion, the Amalfi Coast is one of the most beautiful places in the world, but it is not a destination that you choose only because you want a beach holiday, since honestly, you can find much better beaches all over Europe. In this case, the beach is a nice addition to your trip but should not be your main goal.
On the other hand, if you really want to have a traditional beach holiday, the French Riviera is known for its long stretches of sandy beaches, particularly in towns like Villefranche Sur Mer and Antibes. The beaches here are generally more developed with a wider range of facilities, including restaurants, bars, and water sports rentals.
In conclusion: French Riviera vs. Amalfi Coast, who is the winner?
Ultimately, the French Riviera is best for those who are looking for a more glamorous and luxurious holiday or simply want to enjoy one of the most amazing beaches in the world while combined with 'big city' plans such as theater, museums, and festivals.
The Amalfi Coast is definitely the best choice if you're looking for a more laid-back, authentic, and charming holiday with scenic coastal towns, especially if you are traveling with your partner and want to experience the romance of Italy.