Nice, one of the gems of the French Riviera, is not only a popular destination for beach lovers but also a paradise for the ones who are passionate about art museums and cultural events. From the Matisse Museum to the Massena Museum, Nice won't disappoint you if you are looking to immerse yourself in the work of the most famous artist in Europe.
If you are looking to visit the South of France on a budget, the Nice Museum Pass is an excellent choice for you because it lets you visit all the municipal museums of Nice for 48hs for a fraction of its cost.
In this guide, I will explain to you how the pass work, where you can buy the Nice Museum Pass, and how you can take the most advantage of it. I will start covering some basic questions about museums in Nice first, but feel free to skip it and jump right into the Nice Museum Pass review
Useful information about Museums in Nice
Are museums in Nice free?
There are not free museums in Nice, however most of the museums offer free access to students, under 18, journalists, tourist guides and people with disability. An exeption to this is the Marc Chagall National Museum which offers free access for everybody on the first sunday of every month.
Residents from the South of France can also redeem a Nice Museum Pass for free by showing proof of residence at the ticket booth of any museum in Nice.
How many museums are in Nice, France?
Nice has more than 20 museums and art galleries, 12 of them being municipal museums that you can access with a Nice Museum Pass card.
The following is a list of the most popular museums and galleries that you can find in this beautiful coastal town:
Museum of Modern and Contemporary Art (Musée d'Art Moderne et d'Art Contemporain – MAMAC)
Marc Chagall Museum (Musée Marc Chagall)
Matisse Museum (Musée Matisse)
Museum of Fine Arts (Musée des Beaux-Arts de Nice)
National Sports Museum (Musée National du Sport)
Museum of Naive Art (Musée d'Art Naïf)
Charles Nègre Photography Museum (Musée de la Photographie Charles Nègre)
Natural History Museum (Musée d'Histoire Naturelle de Nice)
Masséna Museum (Musée Masséna)
Museum of Asian Arts (Musée des Arts Asiatiques)
Terra Amata Museum (Musée Terra Amata)
Museum of Human Paleontology (Musée de Paléontologie Humaine de Terra Amata)
International Museum of Naive Art (Musée International d'Art Naïf Anatole Jakovsky)
Museum of Decorative Arts and Ceramics (Musée des Arts Décoratifs et de la Céramique)
Maritime Museum of Nice (Musée de la Marine de Nice)
Ferrero Gallery (Galerie Ferrero)
Eva Vautier Gallery (Galerie Eva Vautier)
Ponchettes Gallery (Galerie des Ponchettes)
Depardieu Gallery (Galerie Depardieu)
Jean-Marc Lelouch Gallery (Galerie Jean-Marc Lelouch)
Motus Gallery (Galerie Motus)
Braunstein/Quay Gallery (Galerie Braunstein/Quay)
Marine Gallery (Galerie de la Marine)
Contemporary Gallery (Galerie Contemporaine)
De Bellefeuille Gallery (Galerie De Bellefeuille)
What days are museums closed in Nice?
Most of the museums in Nice close on Monday or Tuesday, and all of them close on January 1st, Easter Sunday, May 1st, December 25th.
The museums that you will find closed on Monday are: Charles Nègre Photography Museum, MAMAC Museum, National History Museum. On Tuesdays, you will find closed the Matisse Museum, Lacaris Palace, Masséna Museum, Arqueology Museum and Terra Amata Museum.
Nice Museum Pass guide
What is the Nice Museum Pass?
The Nice Museum Pass, or Pass Musee Nice in french, is a pass card that allows you to visit all of the 11 municipal museums and gallaries of Nice during 96hs.
Museums included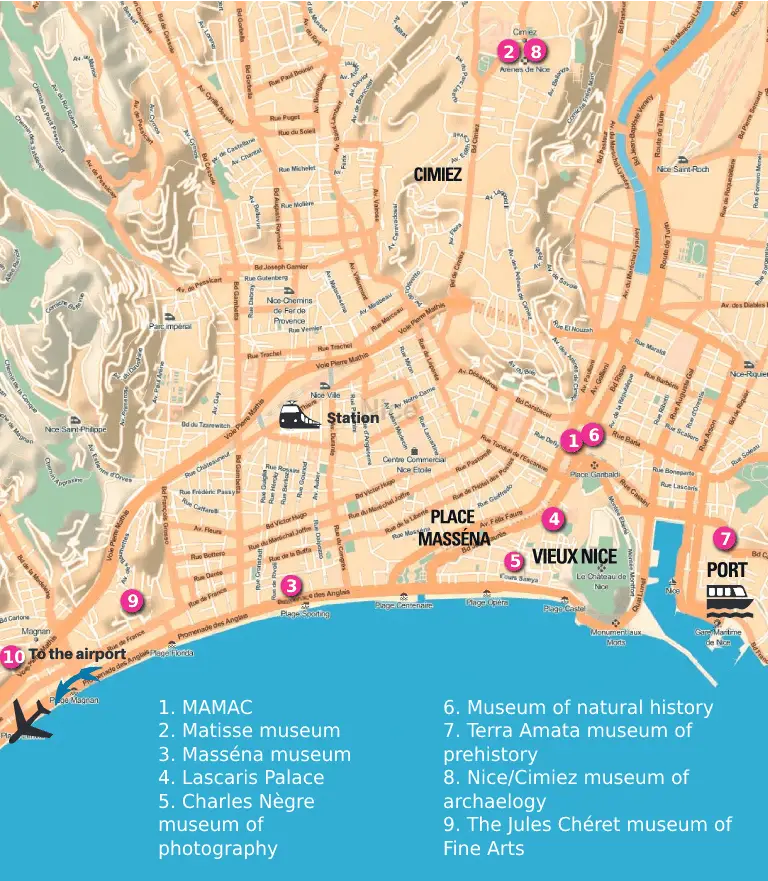 As mentioned before, the Nice Museum Pass includes the following 11 municipal museums and galleries of Nice:
MAMAC
Matisse Museum
Massena Museum
Jules Chéret Museum of Fine Arts
Lascaris Palace
Anatole Jakovsky International Museum of Naive Art
Charles Nègre Museum of Photography
Gallery of the Museum of Photography
Terra Amata Museum of Prehistory
Nice/Cimiez Museum or Archaeology
Museum of Natural History
A common misconception is that the Chagall Museum is included in the Nice Museum Pass. The pass only allows you to enter municipal museums and the Marc Chagall museum is a National one.
Nice Museum Pass price & where to buy
The Nice Museum pass costs €15 for individual tickets and €10 for groups of +10 people. Th pass card can be purchased online at their official website or at any of the ticket booths located on the participant museums.
If you decide to purchase your tickets online you can save a lot of time by skipping the line at the museums, however you should keep in mind that once you buy your pass you need to select a specific date and the 96hs timeframe will start counting from that date.
What is the difference between the Nice Museum Pass and the French Riviera Pass?
The French Riviera Pass is a pass created by the Cote D' Azur Tourism Office and it includes access to +60 tourists attractions all over the French Riviera, such as museums, hop on hop off buses, boat tours and more. Instead, the Nice Museum Pass is a pass created by the municipal government of Nice and only include access to museums located in Nice.
Is the Nice Museum Pass worth it?
The average price of a museum entry in Nice is €8-10, so as long as you visit more than one museum in Nice the pass will be worth it and will save you money.
A common mistake made by passholders is to visit museums only because they are 'free' (aka included on the price), I suggest you to avoid doing this an instead make a list of the museums that you would like to visit during your holidays before you purchase the pass.
​​In conclusion, if you're a museum lover or a traveler on a budget, the Nice Museum Pass is an absolute gem. It's like a golden ticket that grants you access to some of the most captivating cultural experiences in the city.
So, whether you're an avid art enthusiast, a history buff, or simply a curious traveler seeking captivating experiences, the Nice Museum Pass is your ultimate companion. Grab it, embrace the joy of discovery, and indulge in the artistic and cultural heritage that Nice has to offer.
Your journey awaits!