Located in the glamorous French Riviera, Villefranche sur Mer amazes its visitors with its azure waters, sun-kissed beaches, and charming Old Town.
Yes, it's true, there are many attractions and things to do in Villefranche sur Mer, but if you choose to stay here on your next trip you will probably want to take advantage of its strategic location to explore other French Riviera towns while you are there.
Whether you prefer a private tour around the Riviera or hop on a train to visit wonderful towns such as Eze and Menton, we have got you covered with a complete list of all the day trips from Villefranche Sur Mer that you can take this summer.
We have divided the list into 3 segments: private tours that offer a combination of day trips around the Riviera with a guide that will deep dive into the history of the region, day trips from Villefranche sur Mer by train for those seeking to use public transport, and lastly, car road trips.
You can see a breakdown of all the trips here and read the full guide below:
Tours departing Villefranche sur Mer
Eze and Monaco are an excellent combination of destinations for a day trip, not only because both destinations are so close together but also because you can really get the best of both worlds by seeing the medieval village of Eze and the opulent Monte Carlo.
There is a particular Monaco, Monte Carlo and Eze tour offered by Viator available for around $118 USD that I really dig into. You can see below some of the things that I think that makes it a great choice for your trip:
While the tour departs from Villefranche sur Mer port, there are a lot of hotels from which you can get a free transfer from
It is a small group tour so you won't share it with more than 8 people
The tour includes special activities and sights that you would probably miss on your own such as a guided visit to Eze's traditional perfumery, Parfumerie Fragonard, and a stop on La Turbie, a village known for being 'the terrace of Monaco' where you will get incredible views and photo opportunities
The tour includes a guide, which has great reviews if you check Viator's site, but the guide won't be bothering you all the time, you will also have time to explore on your own and go on your own peace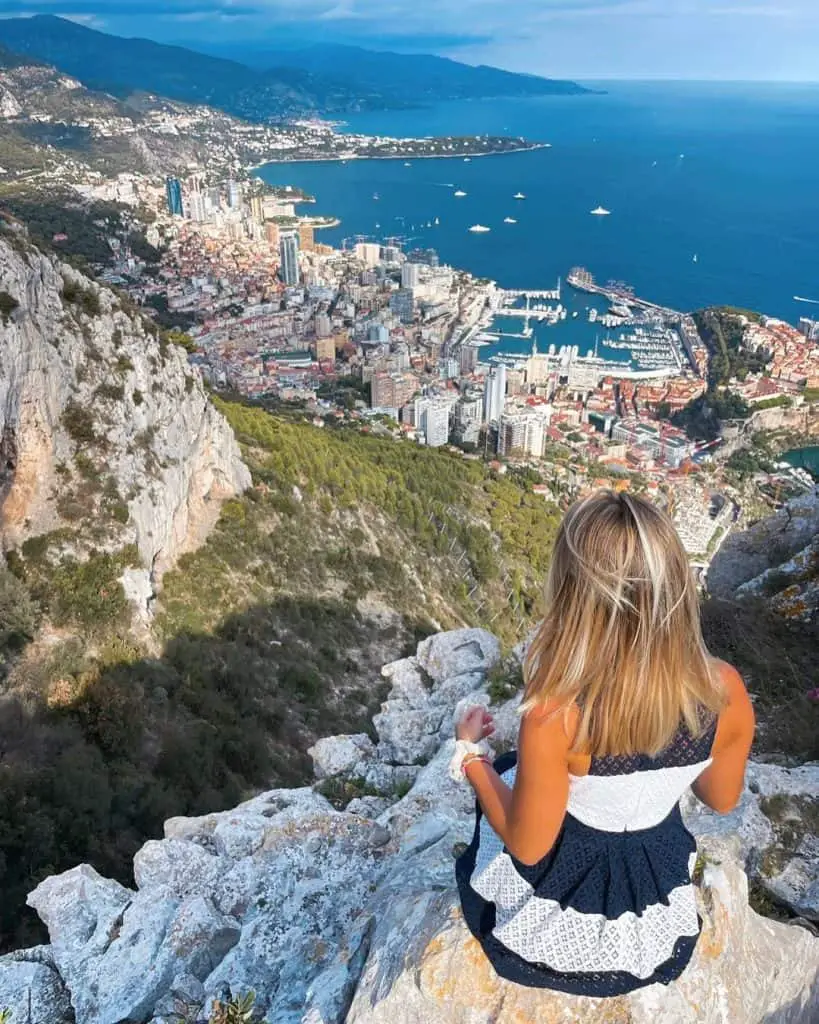 If you are looking for more privacy and full attention from your guide, a private tour is the best way to discover unique spots of the French Riviera.
Tour Azur is a renowned operator in the region and has a great tour covering Cannes, Grasse, Gourdon, and St Paul de Vence. This is ideal because, while Cannes is easily accessible by train from Villefranche sur Mer, the rest of the spots can't be connected by public transport or are just more challenging to do so.
Similar to the Eze and Monaco tour, the greatest thing about this itinerary is that you will get the chance to visit medieval french towns like St Paul de Vence and Gourdon while also enjoying the charm of the most luxury cities like Cannes.
Some things that I like about this tour are:
The private tour allows you to make changes to the itinerary and have more privacy with your travel partners
If you are a fragrance lover or simply want to come back home with a unique gift, you can't miss the stop at Grasse, the world's capital of perfume
Tour Azur, the company that manages this tour, is a reputable company with +600 reviews online being +560 of them positive.
When booking by Viator you get free cancelation and top-knotch support
If you are the type of traveler who prefers to explore at their own rhythm, or you are simply looking for a budget alternative to visit the French Riviera, the public transportation of the region is one of the best in terms of convenience so I have gathered a list of day trips from Villefranche Sur Mer by train that you can plan during your visit:
Day trips from Villefranche sur Mer by train
It is really simple to travel around the South of France without a car, in fact, train traveling around the French Riviera is one of the most recommended ways to explore different towns from Villefranche Sur Mer.
Nice
It is impossible not to mention Nice in this list. Not only because it is one of the most famous cities of the Riviera, and my personal favorite, but also because it is only 15' minutes away from Villefranche sur Mer by train.
Besides doing a day trip and exploring the renowned museums of Nice (I totally encourage you to visit the MAMAC museum), the Promenade des Anglais and have a drink at the charming Negresco Hotel, the proximity of Nice makes it an ideal spot to visit at night to enjou its cuisine.
Pro tip: while the beaches of Nice are really picturesque, they are full of stones instead of sand so if you are staying in Villefranche sur Mer I recommend you to visit its beaches, which are my favorites in the French Riviera, and use your time in Nice for more rewarding activities such as hiking to the Castle Hill viewpoint
Ventimiglia
Ventimiglia, a charming Italian town located just across the border from France, offers a delightful day trip opportunity for travelers visiting Villefranche-sur-Mer who wants to also venture into a different country, and the best part is that it is only 50' minutes away!
During a daytrip you can experience the lively atmosphere of its renowned open-air market, where you can immerse yourself in a sensory delight of colors, scents, and flavors, explore the town's rich historical center with its medieval architecture and visit the striking Cathedral of Santa Maria Assunta.
Saint Jean Cap Ferrat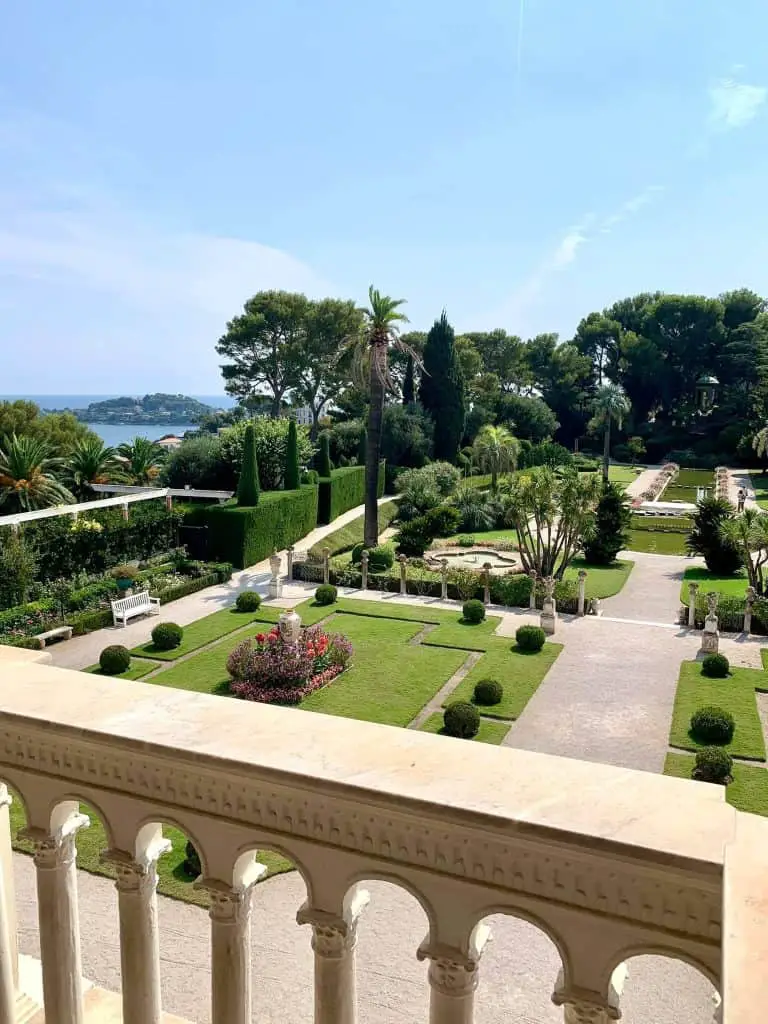 While this is actually not a day trip by train, if moving around the French Riviera in public transport is what you are looking for, a 15-minute bus ride from Villefranche sur Mer will take you to Saint Jean Cap Ferrat for €1.50.
If you ask me, Saint Jean Cap Ferrat is the most elegant town in the South of France and one that you definitely can't miss. Some highlights for a day trip are strolling along the picturesque Promenade Maurice Rouvier and visiting the opulent Villa Ephrussi de Rothschild (included in the French Riviera Pass!), a cinematic mansion surrounded by magnificent gardens.
Menton
Similar to Ventimiglia, Menton is a town nestled on the French-Italian border but located on the French side.
Known for its picturesque setting and mild climate, Menton boasts colorful architecture, beautiful gardens, it is a great day trip option if you are looking for an Italian vibe without venturing too far from Villefranche.
While you are there, don't forget to take a leisurely walk through the stunning Serre de la Madone or Jardin de la Villa Maria Serena, and immerse yourself in the beauty of the lush botanical gardens.
Cannes
Known worldwide for its prestigious film festival, Cannes offers a blend of sophistication, luxury, and natural beauty. You won't regret exploring the historic Le Suquet district, with its charming narrow streets and panoramic views from the top, and if you are a film lover like me, visiting the iconic Palais des Festivals, where the Cannes Festival takes place, it's a must.
Something that I never got the chance to do while in Cannes but I really want to is to take a ferry from the port and cross to the Ile Sainte-Marguerite, a stunning island located just off the coast of Cannes where cars and bicycles are not allowed. The roundtrip tickets are just €17.50 and each journey takes only 15-20 minutes so its definitely a great way to enjoy the beach after exploring the town of Cannes.
Eze and Cap D' Ail
The villages of Eze and Cap D' Ail are an excellent combination if hiking is one of your favorite things to do while on holiday.
You can start your day by taking the 602 or 82 bus to Eze Village (don't bother with the train, the bus will only be a 20-minute journey), then explore the medieval town and head straight to the incredible Le Jardin Exotique. From there, you can hike down to Cap D' Ail while enjoying one of the best views of the French Riviera.
Once you have arrived at Cap D' Ail take your time to explore the town and head to Plage Mala, a "hidden" beach nestled into a cove perfect for cliff-jumping if you are still in the adventure mood. If you want to splurge a little bit on a fancy lunch, I recommend you to check out the restaurant and beach club 'Eden Plage Mala' where I ate the best Agua Chiles that I have ever tasted.
There is no doubt that all of these places can easily be accessed by car too but honestly, there is no point in doing so, especially if you are coming during the high season where parking spots can be really hard to find.
If you are really set on renting a car in the South of France, in the following section I have created a list of places hard to access by train where it actually makes sense to drive there:
Day trips from Villefranche sur Mer by car
Saint Paul de Vence
Saint-Paul-de-Vence, a medieval hilltop village in the Provence-Alpes-Côte d'Azur region, is a captivating day trip destination from Villefranche-sur-Mer. This enchanting village is renowned for its picturesque cobblestone streets, art galleries, and panoramic views of the surrounding countryside.
Parking in Saint-Paul-de-Vence can be a challenge due to the village's narrow streets and limited parking spaces. It is recommended to park at the designated parking area located just outside the village, such as the Parking de la Colombe d'Or or the Parking de la Piscine Municipale. From there, it's a short walk to the entrance of the village.
Saint Tropez
Saint Tropez is one of the most unique towns on the Riviera because it combines the luxury of Cannes (in fact, Saint Tropez is the ultimate vacation spot for celebrities and millionaires) with the charming cobbled streets of towns like Saint Paul de Vence and Eze.
Traveling from Villefranche-sur-Mer to Saint Tropez is not as easy as people tend to believe. In fact, if you try to do it by public transport, you would have to combine a train with a bus, and the entire journey would take you almost 4 hours
This is one of the day trips from Villefranche sur Mer by car that makes the most sense because Saint Tropez is actually a village really hard to access by public transport. In fact, you would have to combine a train with a bus and it would take you almost 4 hours!
If you opt to rent a car, the same journey will take you between 2 hours and 3 hours depending on the season, and there are several public parking spots in the town such as Parking du Port and the Parking des Lices.
In my opinion, the best way to travel from Villefranche Sur Mer to Saint Tropez is to take a bus or train to Nice port and from there hop on a direct ferry to Saint Tropez.
While the ferry might not be the cheapest option, as it costs €85 per person, it is the perfect choice to skip the traffic during high season while also enjoy the views of the French Riviera on the sea.
If you are in the mood for a drink while there, Cheval Blanc's Le Bar, at Plage de la Bouillabaisse serves the best martinis in town and if you come on a Wednesday evening you can enjoy live music while soaking the views from the village.
Aix en Provence
While it's true that it is a 2-3 hours drive from Villefranche sur Mer, Aix en Provence is an excellent day trip destination if you are looking to combine your French Riviera trip to a visit to the Provence.
From culinary delights to incredible town sights, what I like about choosing Aix en Provence is that you will actually have the chance to visit something different on your trip (let's be real, each French Rviiera town is unique but after all, they are all really similar)
If you are traveling between mid-June and early August then this town is really a must because you will have the chance to catch the famous lavender fields in bloom.
Saint Raphael and Esterel Volcan
Saint Raphael is one of my must seen in the French Riviera. While the town is a little more off the beaten path compared to other villages such as Eze and Menton, the fact that it is not that popular among international tourism makes it the perfect place to be to soak some of the French culture.
While you are here, you can start your visit exploring the historic center with its narrow streets, charming shops and unique squearews such as the Place Coullet. After that, head into the heart of the town at the lively Viewu Port (Old Port), where you can watch the boats come and go while enjoying a coffee or a meal at one of the waterfront cafes.
One of the best things about Saint Rapahel is that it offers great ferry connections to other spots of the Riviera. If you come here, I suggest you to catch ferry to the Esterel Coves, ​​a series of stunning coastal inlets and rocky coves located in the Esterel Massif, a mountain range along the French Riviera.
From the Old Port, you can find several ferries offering a roundtrip to the Esterel Coves for €20-€25 that will take you along the coast to see the coves and Calanques of the Esterel. Keep in mind that these tours are big motor boats with +20 passenger and don't stop in the island, so if you want to have a snorkelling adventure and swim in the turquoise waters I recommend you to book in advance this small group tour with drinks included for €65
From enjoying the most incredible fragances of the world to feeling like a French movie star in Cannes, the South of France has something for everyone and a day trip from Villefranche sur Mer is the perfect way to explore them all!
Whether you choose to book one of my recommended private tours or explore the region with your car, I hope this guide helped you to pick the next adventure of your French Riviera trip.
---
Other interesting South of France tips & insights
If you are visiting the French Riviera in the following months this is your lucky day because we have several articles featuring different destinations of the region so you can get the best tips and insights when planning your trip.